This past week has been totally crazy!!
I just now finally have the chance to catch my breath!!
Welll.... this past weekend was Wizard World in Chicago! It was such a blast!! Chicago is my home town.. i wish I got a chance to stay a bit longer and see more of the city, but nonetheless it was amazing to go back there!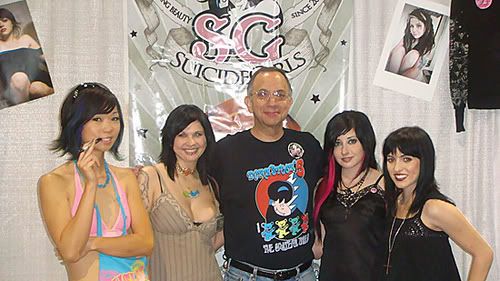 I stayed with my aunt and uncle and new little baby cousin. Unfortunately i was a totally bitch 99% of the time at their apt cause I was so exhausted from the convention. Oh well =) family loves you no matter what.. right?

P.S. United Airlines SUCKS. My flight got delayed for 3 hours on the way there AND back!! bummed me out. really annoying.

On the plus side: I got to meet some incredible people this weekend!!
Check out The_Boss's lovely pictures from Wizard World here:
Wizard World Chicago 2008 Pictures!! and I believe he made a little video as well!

As far as SG's ..... I loved all of you!! Dorsal, Shere, Churtch, and Beau... you guys were such troopers <3 ! Sioux, Scoli, Godiva, Cleo, Shyla and Rei.... it was awesome meeting you guys and I wish we could have spent more time together!!

I hope you all had fun at the convention!! I came home with some goodies... super cute art prints of Batman & Robin, Joker & Harlequin, little baby Hulk sitting under a tree, Thor, and the purple care bear. And i got a cute ring... Moooooonstone. Fancyyyy.

hmm.. i should post pics of those too. I will when I get home!!

also... thank you SilverSurfer and hentzau for finding me that awesome Moon Knight action figure! It was a big success!