Earl Grey or Chai,quick,quick?
Tea time soon...
So,today I was going through some old journals and photo albums and what not,you know re-living the memories and I came accross this short story I had written,well,quite a while back.As I read over the familiar words again for the first time in who knows how long... I could feel the silly little girl smile creep accross my face when remembering back to the innocence and absolute delicacy of the situation, whereon I took apon myself to scroll down on a small torn piece of paper, oh-so many years ago.
So,listen I don't want any critiques in the house tonight and No,you will never know the name of my first true love but, read and enjoy and just think for a second and I want you to really think-When was your moment of absolute-pure-blissful-tender-innocent-happiness?
Start here:
i remember this morning the best.
it was a sunday.
we had nowhere to be,
you almost always had somwhere to be,
but, not today,not this morning.
you got up early anyways and jumped in the shower,
in fear of yesterday spilling your secrets written all over your beautiful skin and possibly in hopes of pleasing me in some small way.
i lay in bed, hot water pipes churning in the walls.
my head on your pillow.
hairspray and eyeliner.
content.
you brew the coffee, beacause you know i can't make the day without it.
when you re-enter the room with two small coffee cups,cream and sugar just like i like it,
you don't see my heart skip.
you were so beautiful on that summer morning,still wearing last nights pjs i clung to ever so tightly in the dark,only hours before
but, showered in the mornings innocence
and purity.
i motioned for you to come closer, as you stood still by the door, still holding our morning brew,unsure of your acts.
you came to me and positioned yourself on the bed so gently.
you sat between my legs and sipped your coffee,
so surely.
but,what we were doing,right there,right then, no one could be sure of.
i watched you for that instant.
set my cup down on the bed stand and wrapped my arms around your full delightful cirrcumfrance, kissed your shoulder.
smelling of baby powder.
i looked into your eyes, you looked into mine.
then you smiled.
and i gripped even tighter,now smiling myself.
you let out a small sigh,possibly spilling a girlish giggle.
and i inhaled it.
heartbeat to heartbeat.
flesh to flesh.
birds are chirping outside our window.
i kiss your shoulder once more.
and the morning keeps on like this.
hand in hand.
cheek to cheek.
two little girls.
sheets make our playground.
your kiss graces my skin and your glances my eyes.
and i remember this morning the best,
it was a sunday.
we had nowhere to be.
you almost always had somwhere to be
but, not today, not this morning.
it was ours.
End Transmission:
She was beautiful that morning.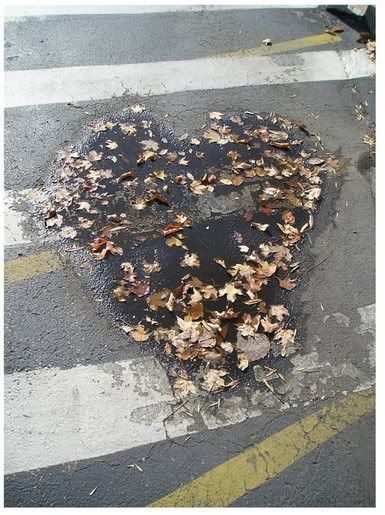 I took this the other day just before the ice started forming on the puddles.
I love it.