Oh. My. God.
I just realised how truly lame I am, I haven't updated since the 24th March!
Sorry I haven't replied to all you guys who left me comments individually, but I thought I'd best pull my lil' socks up and get my journal back on track first...hope you'll all still write to me!
So, my life is a little weird at the mo, I'll try and explain without writing my usual essay(!)...
After finishing school in May I was having a laugh just hanging out in Nyc, working, and went in the boy's van with him and the rest of the band for a few days, to New Jersey and Virginia Beach which was fun
Then went back to the UK in June/July, which was mad, had SOOOOO much fun with my friends, got wasted all the time and realised how much I fucking miss them,
THEN, I came back from the UK on the 15th July and after having abit of a spaz on the plane and in the taxi on the way to my apartment (which I assumed were just panic attacks or me being stupid or something), I had to call an ambulance and go into hospital on the morning of the 16th!
Turns out I had a pulmonary embolism (a blood clot in my lung)
which was prolly caused by being on birth control, smoking (which I only really ever did socially until the last few months) and being on the plane. So after having my blood thinned and being monitored and shit for 2 days I was discharged, went to stay with my boy's parents for a week cuz I was fucking shit scared of being on my own in case anything happened again and now I'm back in Canada staying with my mum!!??!
So yeah, I'm prolly gonna be here for a few months while I'm on blood thinning medication, cuz I have NO insurance in the states and I wanna be around my family for a bit.
I know its not the worst thing that could have ever happened and I'm fine, and will deffo be heading back to nyc to carry on with school sometime in the winter, but it was just one helluva shock for someone who's NEVER been in hospital for anything before in their life!! apart from to see other people!
I also know that I'm one of the "statistics" (as one doctor told me), as I don't think this generally happens to people as young as me...but then I was also reading an article that said it kills more than 200,000 people a year in the USA.
So because of that I'm trying to warn everyone now, especially you ladies to try and quit smoking if you're on the pill cuz I think it really does exacerbate the blood thickening, or use another method of contraception...I was on the pill for like, 7 years already!!! So I'm sure that had something to do with it. And if you are gonna do all those bad things, or even if you don't, take asprin before you fly/sit in a car for a long time, and make sure u move around as much as poss!
God I sound like a mum. Sorry chickens
Here's some pics for you to look at so this journal entry isnt so boring!
nEw hAiRcuT
Uh, we were having a rave in the bathroom...I was dancing?!
Yoo Kay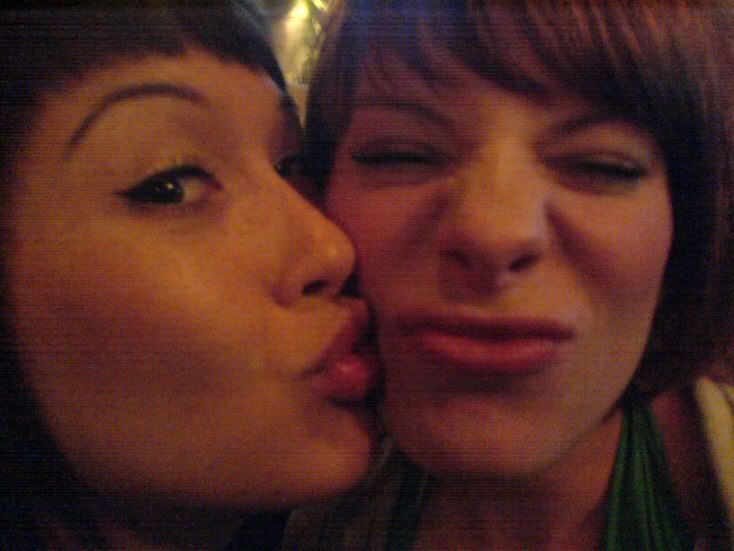 Fuck I'm so drunk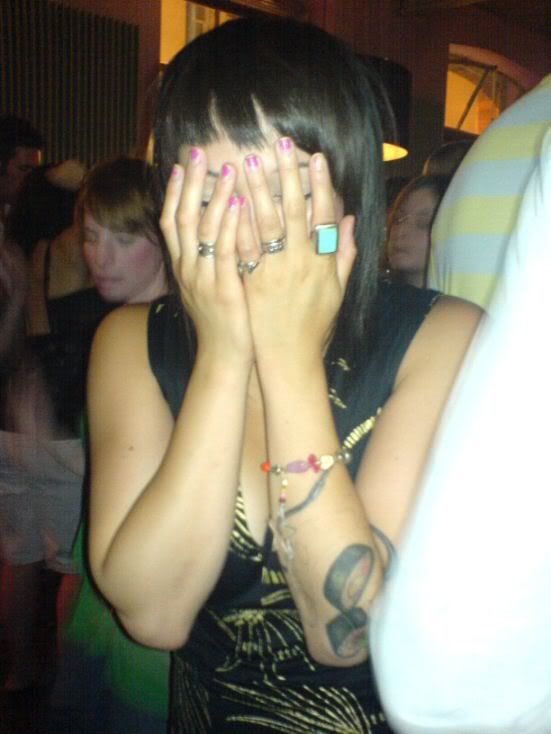 Yes you can all point and laugh at our pathetic bbq!
iNaBit, I'm off for now x