I got my first tattoo when I was 17; yes, that tiny itty, bitty heart that looks like it was drawn on by pen. I got tattooed in a completely unsanitary tiny room, by a 17-year-old kid who just picked up the machine from who-knows-where. So, being the free spirit I wanted a heart, to symbolize love. I know, basic.
So for my 18th birthday, I asked for a cover up. I wanted something that meant more to me. I got the strawberry from Across The Universe, gotta love the Beatles. I went to Hold Fast tattoo on Greenville Ave and honestly can't remember the artists name. I went with a couple friends and they took some pictures of me getting it done, I dressed like I douche bag. It was fun. I remembered it hurt so fucking bad. I just wanted to scream, but I just squirmed, hahaha. I was such a bad client. So, I don't have many pictures during the healing process, or even after that. I had a pretty bad reaction, I'm not sure if was me or them, still, I broke out head to toe. Either way, it didn't make me want to stop getting tattooed, I only wanted more.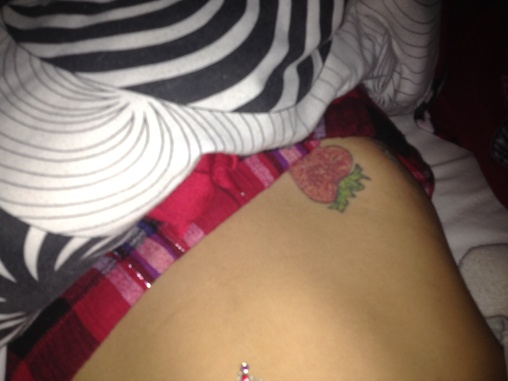 To be honest, I do not like the style of my first tattoo. I didn't really think about that stuff when I was first getting tattoos. I just wanted to get my body filled with art. My art, other art that represented things in my life. I have been getting tattooed consistently for a year now at Queen City Tattoo. Kind of became part of the tattoo family, and it feels good to have. I actually got a tattoo today by my boyfriend (Photo and tattoo above by Taylor). I have countless tattoos and love my skin, and will continue to fill it up with traditional based art.
Here's some pictures of my progress through out the years.
These pictures are from May 2012
I got my tree when I was 18 from a scratcher, he did a shit job, and so did the scratcher after that tried to fix it. Oh well, It was my art on my arm, and it's still there, I gotta love it for that.
Here's some more of my sleeve details.
and of course, my back which is being worked on, as well as patching my legs :D thank you for reading and viewing my skin! <3
xoxo kentessa cannabis