Salty Salutations All!
Yes, I am aware that I have been a tardy tart, and also a most angry one, as I
just
finished this entry, (This is Take II) as I was going to simply add that I am trying to get the Vancouver crew to go see
THIS
as it is going to be sens-fucking-sational, and I am as stoked as Herbert West probably gets when he sees body parts rise...
HA!
Okay, Well, I hope that this fiendly journal finds all my fiendish fiends just fiendy, and I have PHOTOS! Yes, Gloriously wonderful, last day with a visiting CAMERA SHY friend from so long ago that it surpasses some of the SGs Birthdates...And strangely enough? It fills me with great joy in this knowledge. Despite the fact that I can say this about maybe 4 people, and only half of them are galpals...So, I gave her the camera, and despite what the timecodes say, I am putting them in the proper chronological order, because them in disorder is logical. (I heart Unsanity, Don't you??)
Alright...More fun than watching re-runs of Knight Rider at Grand'ma's....
THE LAST PICTURES OF A SUMMERS DAY GONE BY...
(And actually? since it IS Vancouver? well...Summer disappeared about two weeks ago...Soooo, just to help with the enigma...)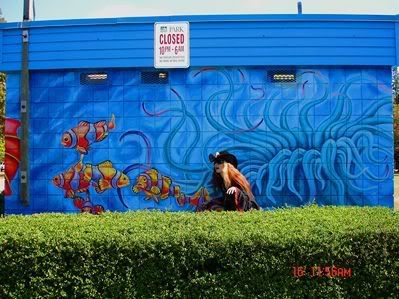 PUBLIC WASHROOMS!!!! Yes...Here in Vancouver, we paint our urban public washrooms as dilligently as the people of Ohio paint thier fire-hydrants into mini-people, we try and deter the unwanted use of Public Washrooms by allowing local graffitti artists to do thier thang, except do it nicely, and get some coin, or time knocked off for doin it...There is no security, save the daily park filled with aging Maffia guys playing Bocce Ball in THIER park...Thats right...Go ahead....TRY and do somethin nasty in this bathroom...
Oh Yes, I am apparently catching clownfish, *ahem*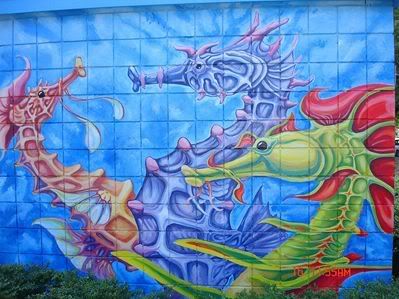 And Yet, another side...with some awesome Seahorses, Very bright these seahorses...It is freshly painted every year...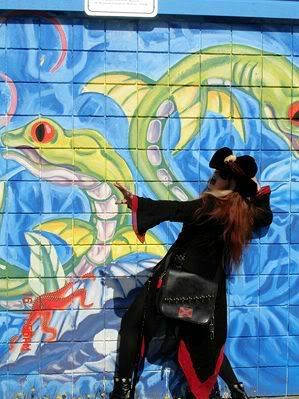 ...and TA-DA! Thee other wall...where I am entangled with these really bright green unknown species of fish to me...I have tried to surmise what these creatures could be for years now...but it still eludes me, and I fear I shall never rest until I do...If anyone knows what these lanky little lampry-like demon fish are? PLEASE tell me...I WILL sleep again!
Okay...enough of the Bathroom...You can only have so much fun outside a Public Toilet.
I then suggested that we go and see one of my favorite Mountain views that I try and see as much as possible...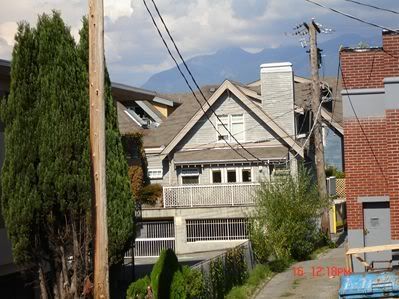 Beautiful, huh? The clouds...The colours...I just love this view...Why, I could just sit and watch it for hours, and I do....from here: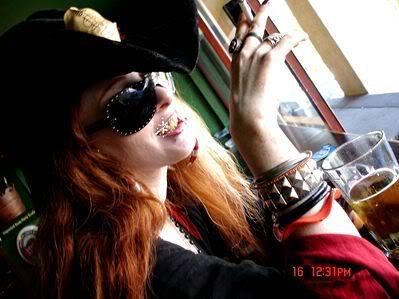 ...Yup, that would be the Drive's most notrious pub, and my favorite so far...They serve excellent munchables, offer a smoking deck, fireplace, great atmos, and the best part? The Pints of Strongbow for a toonie!! (That is a coin worth 2 dollars, FYI) Look at how happy my place is right now...Love those mountains!!
Soooo...after a few of those, we decided to go and grab a shot of this huge 'Carnaval' latino mural.The Drive is home to many, many types of ethnicity, but predominantly the Italian/Latino lot...So, every year, The Drive turns into a 'Carnaval' where there are busoms a shaking, and beads being tossed abundantly, and a whole lot of shimmying in glimmer and glitter, and the Feathers...Don't get me started. That isnt even mentioning 'The Day of The Dead' parade that happens, and the street is closed to allow a large sombre group, with skulls aflame in thier hands, whillst effegies are carried, and incense is burned, and only candlelight gives it the atmos something like that deserves, So...yea, This commemorates it.Again, a perfectly flat. useless, wall is now Art. wow.
There will be no more of this....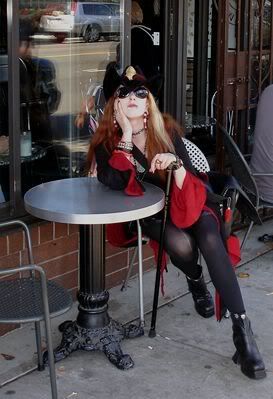 ...well, to a certain extent, that is...Cafe culture exists year round here, but only the die hards will endure rain that is on and off like a Hooker on a good night, and well...I love the rain and all..But smoking in the rain just sucks...and cvoffee with no smoke is just plain fuckin heresy, so you figure it out. If you are one of my fiends accross the almighty pond? You know what I speak of...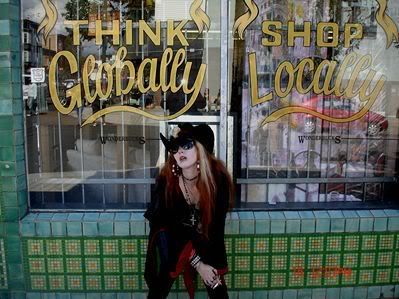 ...and here is where I said "That is it...we need more cider, and I am fucking tired."But there is a little bit of odd history bout this building and those wonderful green tiles...It has suvived 3 fires, Yup...this building which now stands as the highly imperative 'Wonderbucks' in our hood, and there has not been another fire in a decade, But the strange thing is? The fucking tiles! They are the very original ones from the 40's!! Tis true! (C'Mon, when else did we appreciate tiles that wonderful shade of green, and No, I dont mean 5 years ago when it got cool.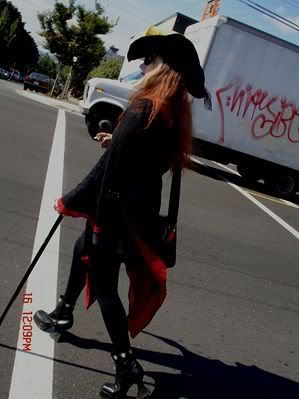 This is me going "Fuck, alright...really, lets just cross this fuckin road..." Unfortunately we didnt get a shot of the truck that whipped past us right before yelling "YEEEEEEEE-HAW!!! COWGIRL-FREAK!!!" Yes, Cowgirl Freak indeed. Enough, more cider...
HOME! The entrance to my sub-level suite....and Yes, I will miss this wonderful, stone walkway, covered by the loverly overhanginging Fig and Plum trees...The Blackberry bushes are also nice....so are the poppies. *sigh* I will miss this abode.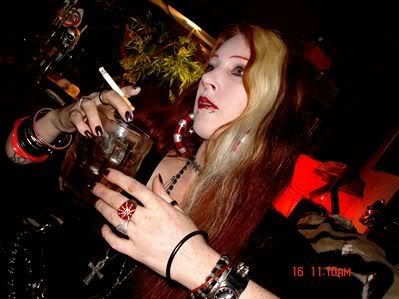 ...and IN the door, with pint of Stronbow in hand, and all potent potables smoked for the time being, I lure my galpal into watching something she has never been exposed to...One of THEE only wonders that appears on my Television, and it IS NOT Horror, nor Vincent Price oriented, I am talking The Venture Bros., and of course, my darling cartoon crush, Dr.Orpheus..*le sigh* (Cannot WAIT for my T-Shirt! WOO!) Anybody who enters my abode, and they WILL vouche for this, I will make you watch Horror, or...?The little-known other choice: The Venture Bros. Every friggin show ever did.
And of course, when this IS the choice, The Law must be imposed...This is me after explaining The Law...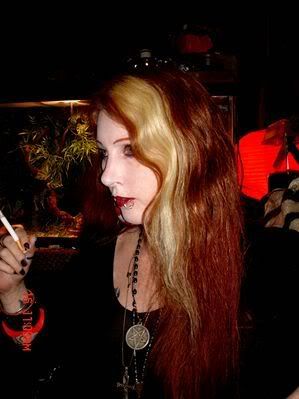 Notice how intent I am within the confines of The Law, which is stated as such for ANY type of screening I am taking part of enjoying, especially if I am drunk and Doc Orpheus is going to be on...It goes like this: "Okay...Shut up...k? No....really, just watch...you shall see....what? NO! JUST SHUT THE HELL UP!!"
"Please?"
Then, things got silly, prolly about into the second season, AssAssinanny was the episode, and within the span of the first season and a half, 3 more drunk folks came by (yay.) and well...silliness ensued, and I think someone realized I had a cigarette and Red hair....and did this to me...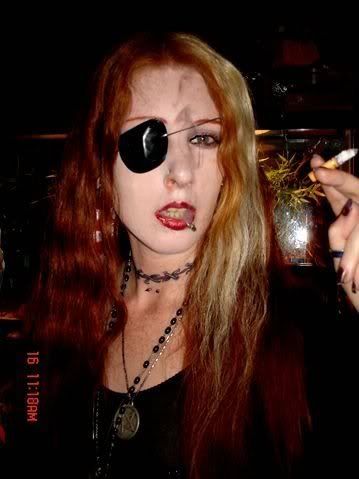 A-Yup...That is when the camera went the way of the do-do and got put into the Dragon cage, as nobody will stick thier hands near Severen (which is funny, cause he looks like he could bite your hand off, but he flinches at crickets sometimes...lol!) Yup...I just said no when one of of my supposed old male bro's started to throw PVC at me...and well, that is where I shall end it...There may be pictures, but if there are? I don't know how they happened.
Really...do you have any clue how lame it gets saying 'Brock Sampson' in a Russian accent 23 times gets?
Don't ask.
Oh, and just in case you were wondering, Yes, I do have a wonderful stomach Flu...Its quite unpredictable...It ROCKS!!!
Again, I hope this finds all interested fiends well, and I am VERY aware I have some serious catching up to do with some of you crazy freaks...so keep a porchlight off, lest you'll be visited...
Hope all your Fixes are Frights, and that everyone finds something just adorable that bites...
Sadie
(Seriously...I KNOW I have alot of you I gotta catch up with...I am going to be living alone soon, may be a good idea to keep some fiends around, huh?)
(Yea, Yea...Join it or Jerk it!!!)