Oh dear, haven't updated this in ages, I apologize!

Here we go dear reader, as usual, this shall be almost pain-free!
Well, not much to tell really. Got out of a really nasty funk that lasted almost a month, but it sucked anyway. I've managed to beat the funk to the curb and feel happy. Not at my happiest though, but happy none the less. I realized I feel wanderlust recently and for some reason that keeps me semi-sane.

Ugh, I know, boring... Let's move on...
On another note, the Kings won the Cup! Fuck yeah! I cried, I kid you not. I've been rooting for them for ages and finally I was able to watch a whole season, non-stop! I'm ecstatic!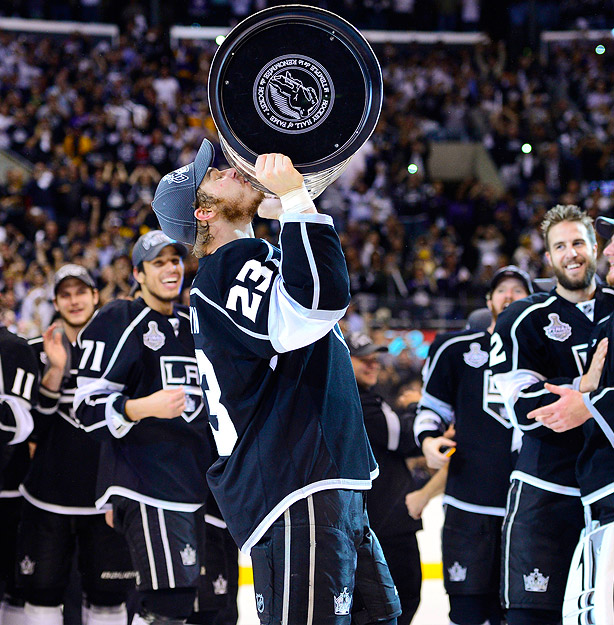 Sports? Really?!
What else is new? Well, I'm still planning on moving to L.A. but like I mentioned to
R3X
the other night, I hate that every single place I want to travel to is somehow attached to HeWhoMustNotBeNamed. See, I've been through awful breakups and awesome breakups but this is my first NON breakup since there wasn't anything to break up. It was a major factor in the above funk, but I'm getting over it slowly. It takes time given we're stuck in the same small town, but alas, I will get this done dammit!
Yes, more emotional rubbish, let's carry on!
I got an iPhone. I'd have it's dual core babies if I could, I love it. I wanna marry it and live happily ever after.
Save your comments on the above dear reader, she doesn't understand logic at this point...
I cut my hair because that always seems to make me feel a lot more free and better all around. I've watched
Donnie Darko
too many times this month. This has also kept me sane, is that weird?
Yes, yes it is..
.
Finally, I got an amazing present from Miss
velvet_petal
in the mail a few days ago! This woman has my heart, seriously. She's one of the most awesome people on this site, no joke. Also, its my favorite word and I can't wait to wear this shirt outside!

It's almost over dearest reader, almost there!
Well, that's my lousy update for the time being. In short: I'm happy, I want to be in love and I want to get out of here. I know awesome people on this site and I spend way too much time on my phone in places like these:
Tumblr
(don't click if you don't want an influx of Asian men and Salem from Sabrina the Teenage Witch)
Twitter
(mostly rambling in both English and Spanish, might be confusing...)
Instagram
(pictures of everything that catches my eye or my dog doing dumb poses... In this case, today's sunset.)
Love ya'll!
Mena ♥