I've made a couple of decisions that I think will greatly benefit me in the very near future. Excuse me if I'm a bit cryptic because I don't want to set myself up for failure but I hope I can stick with it. Doing (or NOT doing) these things will greatly effect my wallet. This way I can afford a decent digicam to shoot dumb shit and finally get my website up. Also, I'll be able to afford a road trip. I don't have a particular place in mind yet but I really miss getting in my car and driving far away at least for a few days and blowing off some steam.
Pictures I took of myself today while on my lunch break:
Blurry pic but this is easily one of my favorite things in the store. It is a butt plug with a long stem that you are supposed to insert and then people throw rings on. You can choose your own prizes.
Also, look at this motherfuckin' case of bedhead I had this morning. And this is
after
I pressed it down with my hand: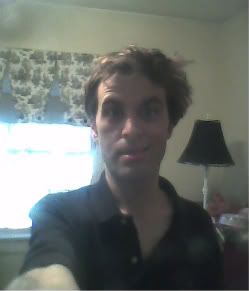 In shocking news:
THE REVEREND BENZO CAUGHT ON TAPE!





I have to go pay my rent now.

Much love,
Benzo