ahhhhhhhh ok so i finally did this huge long update... and my dumbass clicked on something and wooooshhh its gone.... dammit..
so here goes again.. it wont nearly be as awesome but im gonna try to stick to it...
so this guy was been spending wayyyy to much money... and altho i go to shows and such for free a good majority of the time... there is never free alcohol.. lol
so first it was summercamp music festival..
i had alot of fun... but if it wasnt for the 30 friends i went with it would have been a drag... people were not very nice like at most music fests... esp the hippie ones
it felt like a mother fuckin free for all.. haha
the crowd was strange to say the least.. there were so many.. way to young kids... doing wayyyy to many drugs... for instance and i quote "dude i took 5 rolls and i cant see anything" followed by his dumbass friend "awesome man i only took 4" jeeeeeezus whats wrong with these peeps..
anyway... i love camping and music but i also like to stay decently clean... it rained alot and was suuper muddy....
now thats not my foot but ill tell you mud and dc's do not get along... but i saw people doing this...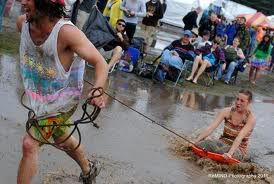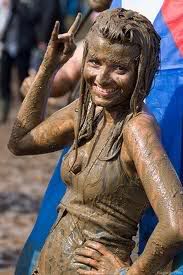 not my cup of tea... i guess... hippies!!!
after that i had to get back into the groove of things.. and prior to this i had finally met a cute girl... but as always the timing was wayyy off... she has decided to move to LA.. in pursuit of her career, which im not fond of but.. i was damn willing to give it a try... anyway... im not really sure what to do... she wants me to drive her and her ever so cute pups out to LA.. from here in chicago.. but id have to come back all by myself... and probably feeling defeated... but i gotta look at the bright side.. it gave me hope that i CAN meet someone that awesome... i just hope its not in another 4 years... lol... i guess i just gotta keep putting myself out there.. i really dont have anything to loose at this point...
annnnyway so i got back into the groove of things and then wham it was my mother fuckin 25th bday... and actually the first one in 4 years that ive been home for... ive spent my bday, christmas, and thanksgiving on tour.. which sounds awesome but can be really hard at times... but i got to spend it with my friends for once!!!!!
a few days after that we went to see Orchard Lounge and Dumpstaphunk at a club called the mid... where the price of water and beer, are like gas... always going up.... lol
OL
DUMP
good show even tho i burned up my wallet... lol
and then theres now... ive decided last minute to go to electric forest, or formally known as Rothbury.... im really excited to go see that sweet sweet bugless woods.... hahaa
thats 4 days long then i come home for a day and leave for camp bisco in new york.. also very excited...
but i feel very partied out, and altho this is my last summer to party before i have to go back to work for the rest of my life, it kinda seems exhausting , im just trying to get the most out of what time i have left.. i guess...
the only thing that would make my life better, and me ever so happy is a significant other, to spend/share the experience with...
now i leave you with this!!!




ride or die!!!!