I had the most productive Sunday EVER!
I did a big trip to the grocery store, because we were totally out of food. Tomorrow, I will portion out all the meats I purchased (I buy in bulk, cheaper that way). I also have to chop and freeze the onions I bought. I started doing that a few months back, so I don't have to chop each time I want one. So much more convenient, since I cook all the time and use a ton of onions.
Had an exciting moment at the store: They had Sunburst tomatoes! They are totally my favorite. Had to get a pack - hope I can make them last more than 2 days, haha.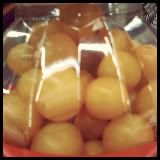 After I got home, I put all the food away, washed the dishes, and cleaned the kitchen up a bit. Got a little nap in, then cleaned my nightstand up. The old prescription bottles were starting to get out of hand, and it was a bit dusty, so some cleaning was needed. I bought a packet of Pledge wipes today, so I can keep a better handle on the dust - it gets bad fast with 3 dogs. Now I can just grab one, and wipe everything down every few days, and don't have to get out the rags and the spray and everything all the time. I can just do the full rag and buff dusting on Saturdays to keep everything nice and shiny, and then just do a quick swipe with the wipe once in the middle of the week. So exciting!
I made dinner for us - chicken fried steak, mashed potatoes, and green beans. This was my second attempt on the chicken fried steak, and it turned out much better this time. I went all the way on the breading: flour, egg, flour.
Made the mashed potatoes from scratch too, but canned green beans tonight. I have some fresh, but I'm saving them for dinner later this week. I'm hopeing for a good week at work. I have a lot to accomplish, but not too much that should be keeping me from getting it done. Hope everyone else has a great week too - love to all!