Happy Thursday y'all. Thigh High Thursday, in fact.
So first thing's first. This is going to be a
very
picture heavy blog. In a few short hours I have this set going into Member Review, shot by the gorgeous
Chocolat
. I'm very excited to see what' you all think.
Fingers crossed it makes the front page.
So, onto other business.
I have been thinking a lot recently. As some of you will know, this website has its own chat room. There are hundreds of users of this room. Sounds like a good idea, right?
Well. Back in 2007 when I first became a Suicide Girl, I started frequenting the chat room quite a lot. Seemed harmless, I thought. Since then I've been a regular there for six years, but now everything is changing.
Userplane (who owns the client SG uses to run the chat room) is shutting down in August. Panicked SG Chatters everywhere are clutching at their hearts and are unsure what to do.
Here is my advice.
Take the opportunity to just leave. Go out. Stop hanging around in the same places as your ex boyfriends, ex girlfriends, ex husbands, ex wives, ex... I dunno, convicts. Just get out. That fucked up little place has caused more problems than it has
ever
solved. It is a disgusting hovel mostly frequented by disgusting little people with their own stupid little agendas... agendi?... whatever.
Imagine that you go to a bar, all the time, you love going there. New people come along to the bar all the time but it takes them a while to break into your close-knit group of friends. Once they have, however, you find yourself in love (awww) and before you know it you're swept off your feet by this "bar attendee". Beautiful moments are shared, everyone is happy for you, everyone smiles and tells you what a great couple you are.
Then it ends. Having nowhere else to go you
still return
to the
same bar
, but things have changed. Whispers and rumours are flying around, who wronged who, who deserves to hurt. Your close-knit group of friends, you realise, were never actually your friends, but a group of shallow individuals whose agenda is this.
"You have something I want, give it me or die."
It doesn't matter what that thing is, they'll come at you until you give it them or you disappear. There's no two ways about it..
Not everyone in that room is like that, I'll admit, but because it is a
vast
majority of the people who frequent that room who act like that, I will be fucking
overjoyed
if that chat room
never
makes a reappearance.
God
they're
so
full of their own self-importance.
I'm expecting emails about what I've said, here, but bear in mind that this is
my
opinion, this is
my
experience.
So yeah, for all I care, the Suicide Girls Chat Room can get fucked, and go die a horribly painful death, that no one will give a
shit
about. Don't let the door hit you in the ass on the way out of town.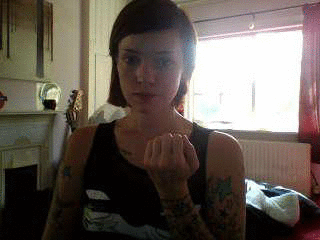 Here's a song to describe that.
Been playing a bit of Lego Lord of the Rings. Mainly because I wanna be Lego Legolas. There's my oh-so-wonderful sense of humour at work again.
But yeah this happened.
So after much, much deliberating, I finally started watching Doctor Who. I am
aware
of how behind I am on that, believe me, I don't need to hear "omg only NOW?" from you guys. But yeah, I've watched 4 Seasons in a week, pretty much hooked there. I still maintain Chris Eccleston was the best Doctor, but Mr Tennant seems to fill the role well. As for Matt Smith... I haven't come across him yet, but, I
hate his face
.
Tralala!


Done quite a lot over the last two weeks, been here there and everywhere. I went shopping a couple of times, but yeah, this fortnight's photodump is going to be a big one, so brace yourselves.




This fortnight's hopeful/member review plugs go to:
Gallows in Home Made



KatCW in Frontin



Saiylor in High Noon



Ermine in Monday or Tuesday



Shamandalie in Mint Honey



Jamity in Monday Morning



starglow in Enchants



Iluvenis in Titanium



Drave in 24 Karat



Of course, ME! in Hang Tough, by Miro



And keep your eyes peeled for tomorrow! I'm excited!





Thanks for reading. Stay strong.

I was asked to post my Wishlist
Become a fan on Facebook
Follow my ass on Instagram
Stalk my interests on Tumblr
Tweet me!
Watch me on YouTube