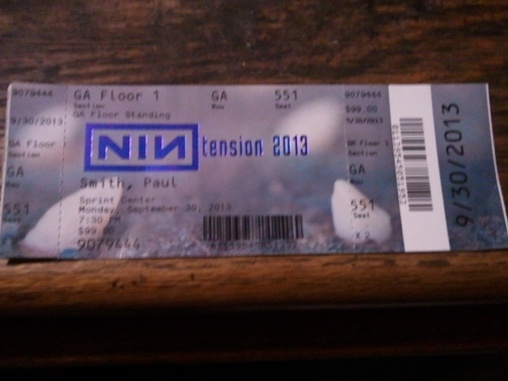 This is a little late but I'm gonna copy and paste and edit what I said on facebook about this concert with some extra details.
Set list:

http://www.setlist.fm/setlist/nine-inch-nails/2013/sprint-center-kansas-city-mo-2bc7e40e.html
The show was good, I made sure to stay away from everyone as well as I could in case I said something or did something I didn't want anyone to hear or see. The original plan was to stay back for the fear of being changed but as I heard the crowd that changed very quickly. If it wasn't just voices I heard then I heard people saying stuff like "I commit suicide" which used to happen to me but I can't remember what it exactly means anymore, like the phrase being another word for something else. before the show started I had some fun with "get real" that was about it though. If you have heard the beginning of self destruction final you know what I'm talking about.... she made it seem I controlled her into saying "get real" or she just did it as I said it in my mind. I would turn my head to every place I heard her in the stadium. I started to cry somewhere around the second song and tried to stop immediately. I cried because in the lyrics Trent says "I don't feel anything at all" and thats how I feel, practically emotionless without feelings, disconnected. There we're many things going through my mind and I could hear/contemplate there were many going through the crowds, I later decided that the feeling is scary. Survivalism was played and trent sang it like the CD and so did I. Spent about 60.00 on beer and I was told that e-cigarettes weren't allowed. That first band was amaaaazing even if it had no words, I made words up to it. I think this will be my last NIN concert I'm gonna go to, to much fucking paranoia with the wait I get sick of it. I'm prepared for hermit mode.