I have toooooons of pictures and I've made 2 videos, you can find everything in my page !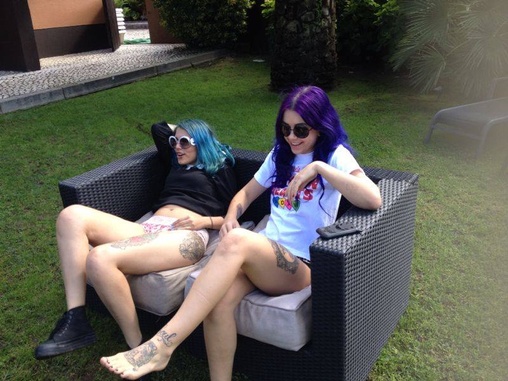 WEEEEEEEEELLLL !!!!
I've been traveling in Europe in the last 2weeks!
Awww I feel so homesick everytime I think about it. I went for long walks and shopping in my favorite streets and shops, always listening to old songs and killing myself inside, what a nostalgic soul I am! These streets has seen me grown up, I'll never forget the first I met you, Milan . I miss everything of that city everyday even the fog every morning.
Then 1 week later I went to Lisbon, the second time in a year! I had to buy my tickets when the girls said 'Shootfest!' , no matter how far I was living.
@gossip & @caia did an amazing job! Work all day and "control" 35 people is not so easy! I went to Portugal some days before go to the mansion and as always, spend some free time with my dearest friend @plum helped me to recover from all the sadness! It's unbelievable how happy I am when she's around!
The shootfest was awesome! I don't even can explain in words what I feel about that experience. I just miss every face and smile! Thank you girls and photographers for being so nice and positive, I had so much fun with you all! I was so sad (and high) when I left the house that maybe I forgot to say goodbye to everyone but you all know that with my 'travel mania' we will see each other again, sooner or later. (Or maybe do you want a shootfest in Brazil in the next year?Well, at least you can practice with your portuguese again)
Thank you to everyone to make me feel so loved and alive.Thank you for all the glasses of wine and spliffs, thank you for every smile and hug. I LOVE YOU.
- ♡ ♡ ♡ ♡ ♡ -
OMG! I'm so in love with Lora Zombie works for SG , I think that we all need more SG merchandise with her artworks! I'm in 2/3 painting with @plum too, I couldn't be happier!
- ♡ ♡ ♡ ♡ ♡ -
NEW SITE * I love changes and we all need them. EVOLUTION! REVOLUTION! The new site is amazing, thank you so much to the whole staff and to everyone who worked on this. This is an amazing gift and my new iPad mini is so glad that this happened so early!
- ♡ ♡ ♡ ♡ ♡ -
Instagram @mendaciasuicide
FACEBOOK
W I S H L I S T ! (IF YOU WANT TO SEND ME GIFTS)
www.etsy.com/shops/mendaciaveritatis - P R I N T S !

- M <3