Welcome, 2013!
The new year started out uneventful yet unique. I spent New Year's Eve watching the Doctor Who marathon on BBCA. I started just before 10:30 and watched it ALLLL DAY and ALLLL NIGHT until BBC World News came on at 4am. That's 15 and a half hours of Doctor Who. It was all of season 4 and then Planet of the Dead, Waters of Mars, and The End of Time. Then they replayed the last three special episodes and then Journey's End for the finale. I still don't know what happens in Planet of the Dead. Totally uninteresting.
Anyways. Midnight hit and I started the new year with The End of TIme. I quite enjoyed it that way. I wasn't drunk but I was drinking. Spent a few hours talking to a friend on twitter via Dalek gifs and then fell asleep for a few hours. No hangover the next day.
Today started out kinda shitty. But it's only day 2.
12 days until I pick up Reekie. Our tickets to the Lincoln vs Omaha games are reserved. She's more excited than I am about the trip, but I'm just trying to ignore it until it gets closer. I have a bad habit of leaving earlier than planned because I get WAY too hyped.
I have nothing else for you right now and I need to beat Volvagia in the Fire Temple so.... here's some Dalek gifs.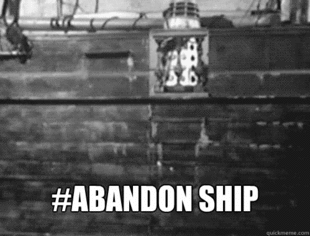 ok bye
xox
P.S. getting REALLY fucking sick of the slut shaming going on in social media. Everything was fine for a while but then.... out of nowhere, it all popped up again. Oddly enough it was soon after the Jenna Marbles video where she just sat there and slut shamed for the entire video. Until you know that person well, keep your mouth shut. What someone does with their OWN body does not define them.