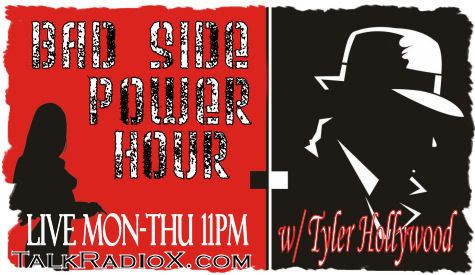 Big news from Tyler Hollywood!
Steppin' To The Bad Side has evolved once again. The full 4 hour show on Saturday nights (starting at 11PM Eastern, 8PM Pacific) is still going strong but it has slowly picked up a new name. The Bad Side LIVE! That's not all the news though. The Bad Side Power Hour (the one hour daily spin off) is now part of a major block of live programing on
TalkradioX
in the evening. Coming on in the evening after The Radio Dan Show and the Live Test Show and airing just before The Dr. Rock Show, the Power Hour starts at 10PM eastern and 7PM pacific.
But the big announcement has to be what took place last week. On Monday evening at 9:20 PM, the owner of the TRX station announced that TalkRadioX has been picked up by an FM station! Detour Talk, an FM station based in the college party town of Johnson City, Tennessee has picked up all of TRX's over night programing (midnight until 9AM) and Tyler Hollywood's show has been tabbed to be the Morning Drive show for the Tri City area!
What that means is the Bad Side Power Hour that airs at 10PM, replays twice on 105.3 in Johnson City. Once at 2AM and again for the Morning Drive at 7AM. To add to the excitement, I am now posting the Power Hour on the
Syndicate Studios
archive site just in case you can't tune in to the live shows.
And stay tuned to all the Blogs comin up. I've got big plans that involved any of the Suicide Girls that are interested!
Tyler