I took this photo yesterday: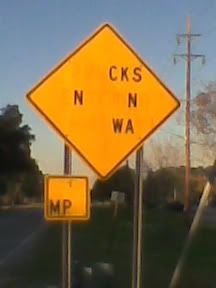 I got attacked last night after the Lucero show. I was waiting around afterwards to get a ride but I got bored so I walked to another bar. People think I make this kind of shit up but some random guy ran up out of the blue and punch me in the head. The bouncer outside the club saw the whole thing and wouldn't let me in the club.
I hate people more and more each day. I don't even really hate the guy that punched me. I hate the bouncer guy. Long story short, I am going to ask someone out to lunch today as soon as my head stops hurting.