The Binding of Isaac: Rope Bondage
Some time ago we discussed biblical power exchange relationships through the retelling of the story of Samson and Delilah. In this week's blog we examine the story of the binding of Isaac which is known as the Akedah or Akedat Yitschak in Hebrew (and as the Dhabih in Arabic).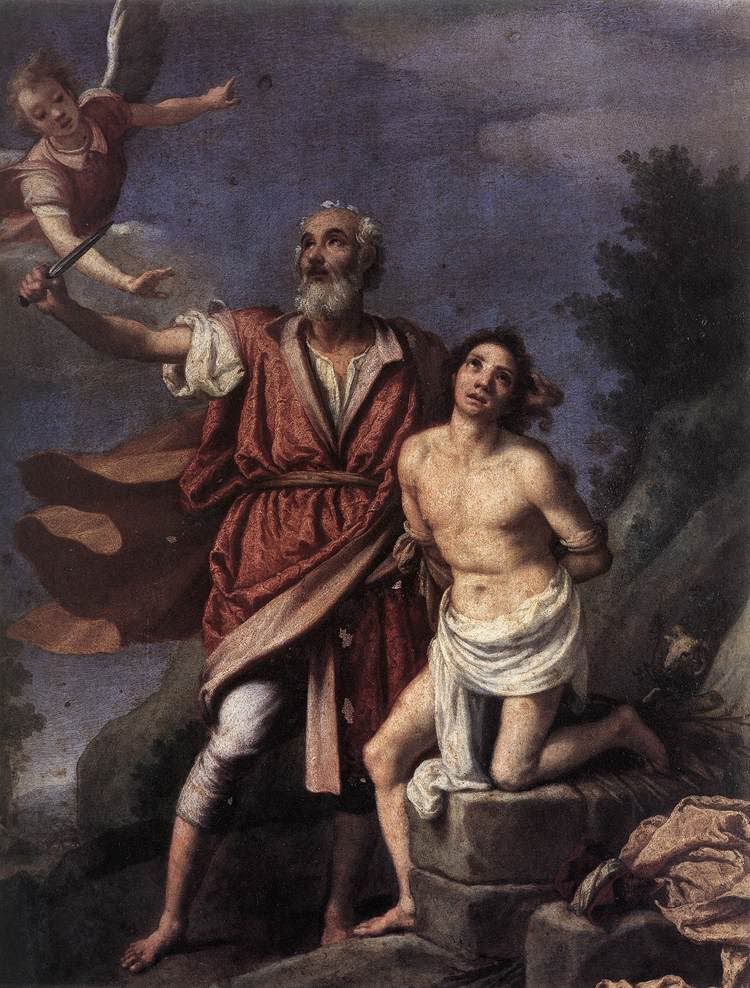 The Binding of Isaac, in Genesis 22, is a story from the Hebrew Bible in which God asks Abraham to sacrifice his son Isaac on Mount Moriah. To many readers the tale is one of the most challenging, complex, mystifying, and perhaps ethically troublesome episodes in the entire Bible.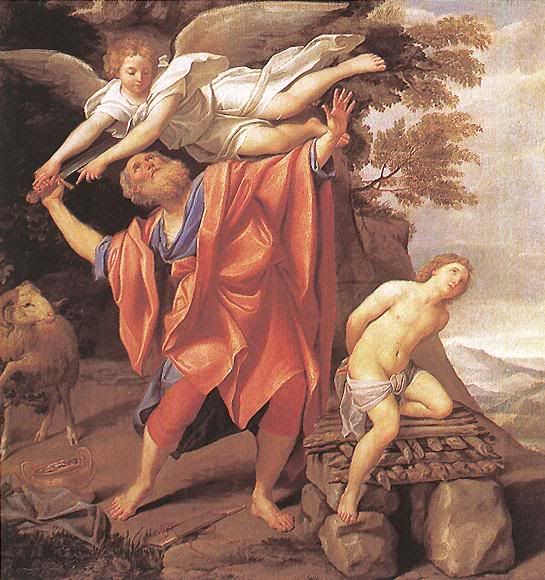 There are two main power relationships at play in this story. The first of these relationships is the one between God (an all powerful dominant) and Abraham (submissive and obedient to God's will). Abraham agrees to God's command without argument, even though God gives him no reason for the sacrifice. The text of the story says that God wishes to test Abraham, which indicates that God does not intend for Abraham to actually sacrifice his son.
The second power dynamic relationship exists between Abraham (a dominant father) and his son Isaac (submissive and obedient to Abraham). Isaac is an adult at the time of slated for his sacrificial death; meanwhile his father Abraham is supposed to be well over 100 years old. Surely Isaac is mature and strong enough to prevent the elderly Abraham from tying him up had he wanted to resist.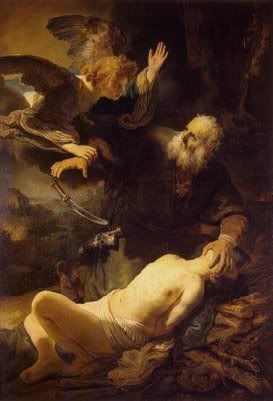 Isaac does not resist Abraham and Abraham does not resist God. It is only after Isaac is bound to an alter that an angel stops Abraham at the last minute, at which point Abraham discovers a ram caught in some nearby bushes. Abraham then sacrifices the ram in Isaac's stead.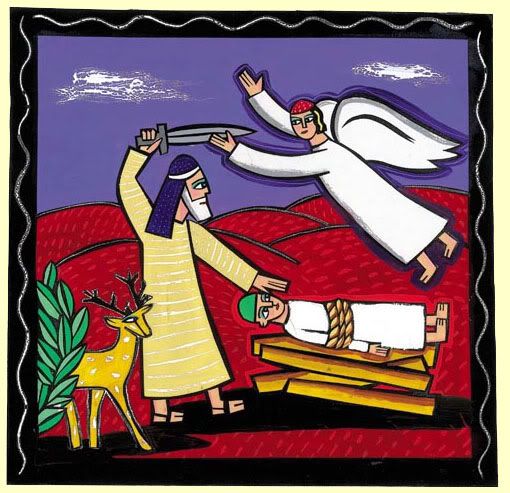 Like our study of the story of Samson and Delilah, we can draw parallels to BDSM and dominant/submissive play from the story of the binding of Isaac. The story involved bondage, a bit of knife play and unquestioning resolves to fulfill commands from dominant figures.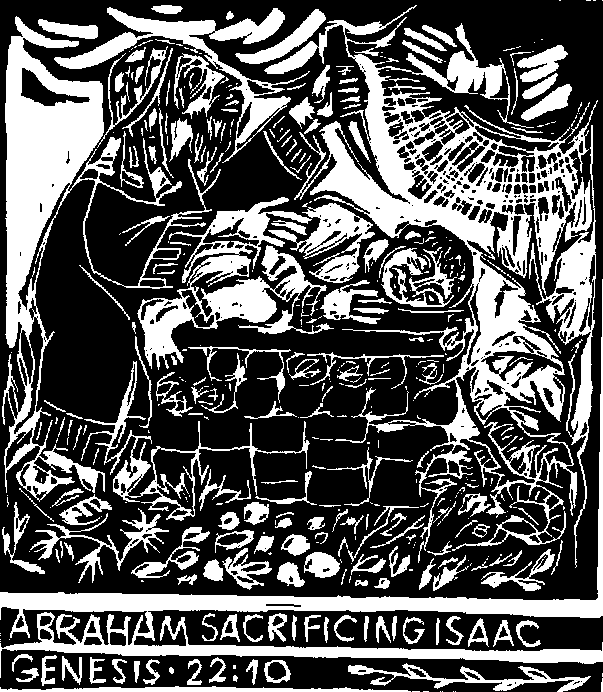 Abraham can perhaps even be seen as an early example of a switch in this story as he is submissive to God and dominant with Isaac.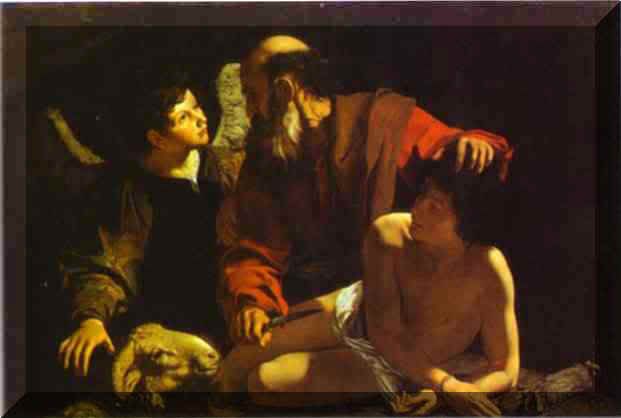 Imagery of the binding of Isaac has been popular with some of the great artists throughout history like by Donatello, Raphael, Caravaggio, Rembrandt and Chagall, among others.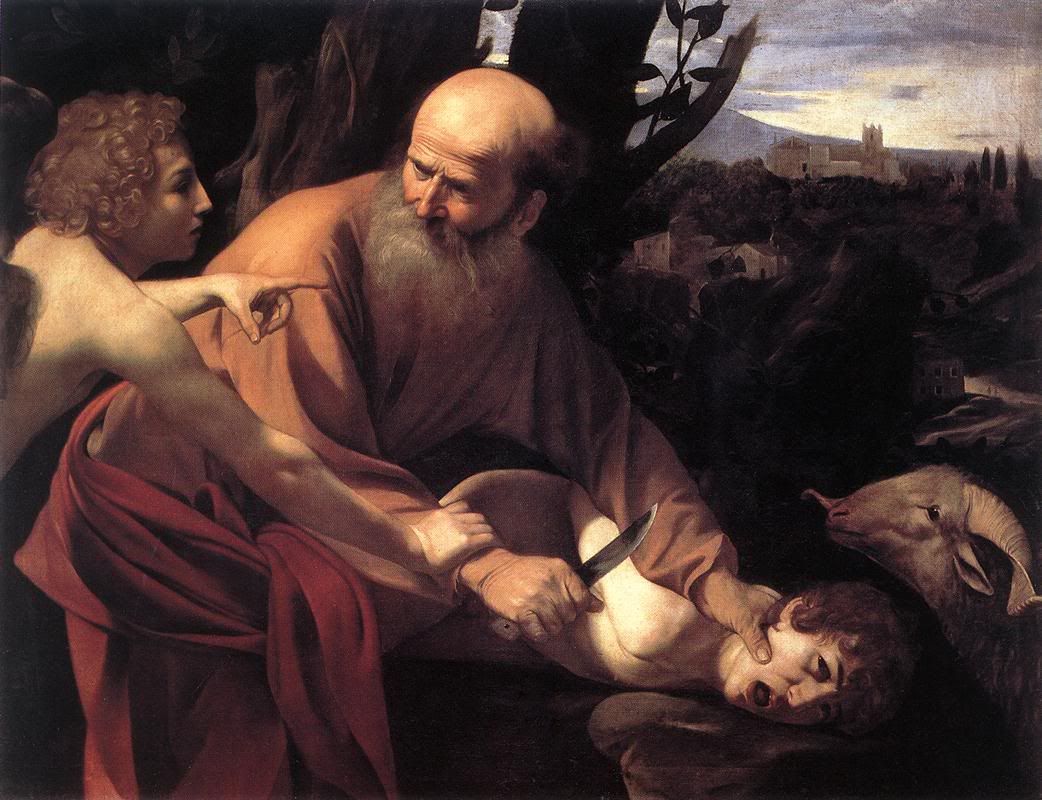 Modern singers have also put the binding of Isaac in melodic verse form in songs like Highway 61 Revisited by Bob Dylan, the Story of Isaac by Leonard Cohen and Isaac and Abraham by Joan Baez.
As the Akedah involves bondage, we want to use the topic as a springboard into a discussion of rope bondage.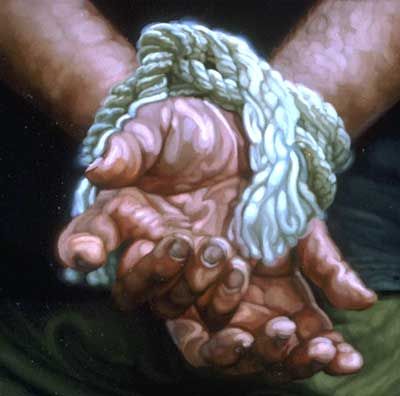 Master Steelow (whose party KinkyJews NYC went to last weekend) provided these basics on rope bondage (http://www.mastersteelow.com/how_to_rope_basics.shtml):
How to fetish BDSM rope bondage basics, safety, care of, types or ropes, For information propose
Bondage can be used to restrain a bottom while the top does something else to the bottom or elsewhere. It enhances submission allowing the botton to let go and get into headspace of vulnerability and exposure. It can make the bottom immobile or uncomfortable. Bondage is also used as art to sculpt a bottom in an attractive and erotic manner in order to display and photograph him/her.
Rope is most versatile. It is fluid. Size doesn't matter. It is also most easily obtainable and the cheapest toy. Anyone, once they have learned a few simple knots can be a master. Rope is aesthetically pleasing and provides a challenge to the top to create rather than purchase.
Types of Rope:
Nylon is great general-purpose rope. It is pretty and slick - easy to untie and comfortable but be careful because it is soft and knots can collapse. It's strong, it wears well, but is vulnerable to abrasion, chemicals and sunlight. The ends of cut nylon rope can be prevented from unraveling by heat sealing. Braider rope is easier and smoother; twisted rope kinks up more and tangles more.
Polypropylene is too stiff and hard to work with.
Soft braid cotton is hard to find. Most cotton ropes usually have a core. Cotton holds knots well but it is harder to untie. Wash to make it softer. It gets fuzzy with wear.
Parachute rope is cheap, strong, colorful and good for detail work like CBT.
Traditional hemp rope, manila, sisal, and jute is attractive to some people for its rugged look and its scratchy, uncomfortable feel. It tightens when wet, is more difficult to work because it is harder to untie. It is weaker because it is susceptible to rot. It is sensitive to abrasion, so your bottom might find ways to fray it by rubbing it along a sharp or jagged edge.
Climbing rope is expensive but pretty. It is too too thick for wrists but great for harnesses and excellent for suspension.
For general bondage applications, large diameter rope is preferred because it is less likely to cause circulation problems. Look for softer nylon rope too if you want to avoid chafing . If you use smaller rope, you will need to leave more slack and keep an especially close eye on all extremities. A variety of lengths is useful (upto 50 or 100 ft), and you will certainly need some shorter lengths (6-12 ft).
Take care of your rope.
Prevent unraveling by dipping, taping, burning or whipping the ends. Washing is good for hygiene, softening and general laundering. Dirt causes inner abrasion and weakens rope. Store rope neatly coiled because kinks and twists can cause undue wear. Keep your rope in a cool, dry place, away from direct sunlight, such as an indoor cupboard or closet. Never store it outside, or even in a garage where fluctuations in temperature and humidity will weaken it and may cause rot. Properly stored rope will last a long time and serve you well. Poor care will cause rope to weaken and eventually to break. This is particularly important to remember if safety could be compromised by rope failure.
Rope stored neatly will also be much more convenient to use during a scene. Don't embarrass yourself by keeping an eager partner waiting while you wrestle with a spaghetti of ropes! Some well-organized bondage enthusiasts find it useful to keep coils of rope sorted or even color-coded by length and type.
Safety Issues
1. Make sure you can get your bottom out of bondage fast. Using shorter ropes or quick release knots helps. You should always have safety scissors, too.
2. Risk increases if bottom is left alone or gagged.
3. Be careful not to cause too much strain on joints- wrists, elbows, lower back, knees, hips.
4. Watch out for constriction of nerves and blood vessels. Be alert and communicate. Look for tingling, numbness, abnormal color, coldness in extremeties. Check sides and undersides of wrists, above and below elbows, armpits, tied or arms compressed against body and groin.
5. Use multiple coils to distribute pressure.
6. How tight is too tight? Make sure can fit one finger between bonds and skin. Remember that body parts may swell.
7. Do not tie rope around the neck!
8. Rope Burns can be caused by coarseness of the rope, speed of application (or taking it off) or tightness.
9. If you can only learn one knot the square knot is it. It's easy to remember, easy to tie, and easy to maintain tension while tying. Don't use granny knots! They slip or jam.
Remember that removing rope is just as much fun as putting it on.
There is an excellent website on rope bondage in Hebrew at
http://ns1.dns-exline.net/~ropemast/main.html.
Other good sites on rope bondage include:
http://www.esinem.com
http://www.bedroombondage.com
and
http://www.nawashibari.com
(which is all about Japanese rope bondage)
If you are into rope bondage, let us know if you ever role-played a biblical scene like the Akedah.