Ok, life is still a fucking roller coaster, but most of the corkscrews and 200' drops are behind me. Life would be boring as hell without them though ... but whatever.
I went to this car show down at Englishtown NJ that I have been DYING to go to since I first started to want to own a Subie. Happens twice a year and each time it has come around, something I absolutely HAD to go to and could not back out of would be happening the same day. This year I made it ... kinda made me wish I had missed it again lol First off I was super bummed because I didnt have my car back from getting repainted, which is a story for the next paragraph lol But it was kind of lame on the Subaru aspect of it. The event is the STi vs. Evo shootout. Really all Subarus and Mitsubishis are allowed in, but the Subies got their asses whooped! Not because they were better, but it seemed there were really just a lot of stock Subies, which kinda made me sad, but made me want to work the shit outta mine to rip up them Mitsus next year with my baby. lol There was one car that made me really wish I still had my bugeye Subie, probably the nicest car at the show ....
On to my baby
She has been at the dealer and/or body shop since the beginning of October. Both places have my best interest at heart and want to make sure she is in tip top shape as they know I will be taking her to car shows, but this is ridiculous. They got me in this soccer mom looking Outback that I just want to drive into a wall, but I guess I should just really be thankful that I live in a day and age where dealerships give loaner cars. 10-20 years ago I would have just been assed out and renting a car or taking public transportation everywhere.
Shit is slow as hell and I just want my baby back lol Snapped 2 pictures of the car when it was just about done at the body shop, will take better pictures when its all finished and its got all the new add ons. Here you can see the new front spoiler and new wing ...
Love them photshop skills right there! lol
Took my sister fishing a couple times and she is really getting the hang of it and is talking about getting her license once the spring season hits. We used to go hiking and mountain biking a lot so it makes me happy that she has taken an interest in fishing and is all gung ho about coming with me. I really love my little sister and the person she has grown up to be ... I say little but mind you, she is 31 ... Jesus that made me feel old.
My sister and her boyfriend threw a Halloween party where they opened up their new backyard tiki bar, which I had a hand in the construction of. We went waaaaaaayyyyyyyyyyyy overboard in the decorations department. As per the usual, I was too drunk to take any pictures, but to give you mental images the backyard had a cemetery with a dozen or so tombstones with ghosts, a make shift masoleum, spiders and a zombie that was crawling out of the ground and shot fog out of his mouth. Michael Myers coming out of a bush, Leatherface coming out of a tool shed with chainsaw and bloody apron and Jason Vorhees hiding in a storage space under the stairs. Other fog machines, giant spider on top of the tiki bar, eyeball beer pong, multiple zombie babies, and all sorts of other shit that took forever and a day to put up. Was well worth the time and effort when everyone kept complimenting us on how awesome everything looked. I got wasted and was a Mexican gang banger, aka Vato. Think bandana really low covering your eyes, flannel shirt with just the top button buttoned. Yea you get it, if not .... Actually found a picture of Leatherface's original placement after we got him all together ...
Kind of a shitty picture, but thats all you get for now
Realized that I am in fact my fathers son. lol We had at least 1/3-1/4 of the keg still remaining, partially due to the fact that I was pretty wasted and forgot to tap the damn thing, so I was debating returning it with beer still in it. Decided to tell my dad to get something to put it in and take it for himself. Recommended for him to bring an empty 5 gallon water drum since he has them laying around. The next part made me prouder then I have ever been of him, he took my recommendation one step further and did this ...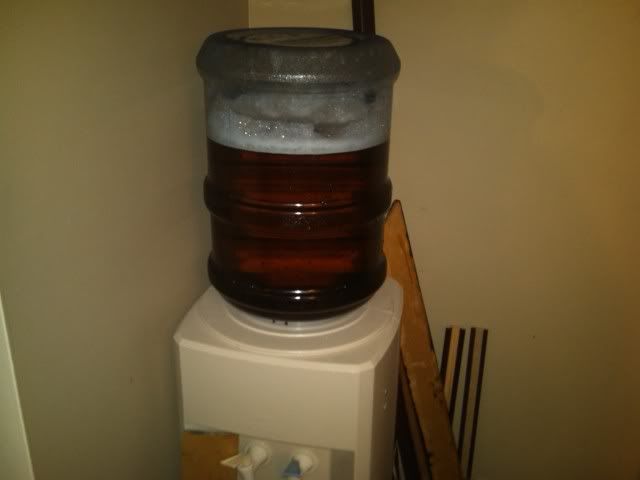 He actually put the damn thing on the water cooler instead of the water. Damn thing is since its upside down, it lost none of its carbonation since it has a seal at the bottom and it kept the fuckin beer cold too! I tried some about a week or so later and the damn thing tasted like it was right out of the tap still. So fuckin smart, I'm just sayin, I woulda never thought to do that.
Random customer at work came in, having bartended and done liquor inventories for multiple bars and restaurants, I recognized the name of the distributing company that was on his shirt. Asked him if he could get me some neon signs and he says sure. Totally didnt think he would and forgot about it. Other day he comes in, I got take care of him and he says, whats in the back seat is yours ....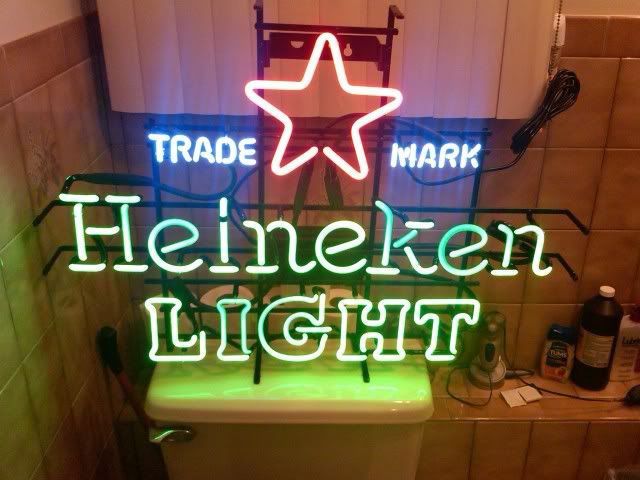 Needless to say I got 2 almost the exact same, the one I kept doesn't have the word "light" underneath. If anyone wants this one, I am looking to sell it. Not looking to turn a profit, but I did pay for his service that day so would at least like to make that back. Was thinking $50.00. Go on ebay and those things are selling for $200.00
Hung out with
allieshamallie
a few times, did some cool shit, hung out. Makes me like sticking around this place knowing there are still cool ass mofo's around.
My birthday was on the 10th, turned 36. A little depressing, had to work that day and dealt with nothing but ridiculous customers all day. Went home and got drunk and stoned by myself. After the day I had, I didnt want to go out, the way it was going I would have got in an accident or got a DWI. Was perfectly content staying home. Went out with sister and some friends Friday night as the plans I had fell through. Got RIDICULOUSLY wasted. Some dude bought the bar of about 40-50 people 3 rounds of shots. Guesstimated that he had spent about 5-600 dollars. lol
Made up for the shitty STi vs Evo shootout,
mydogfarted
and a couple of my friends and I drove down to south Jersey for a rally race event. Got to meet Travis Pastrana ....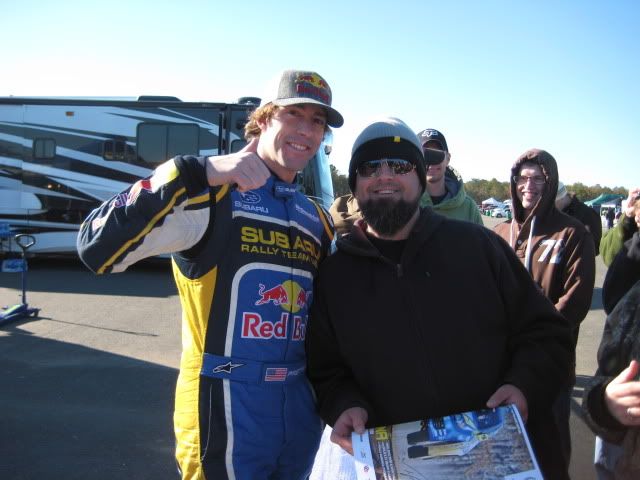 Got an autograph for the hell of it. Saw some really fucking bad ass races. One dude won despite blowing out passenger side front tire with one lap to go. Saw my motherland represent!!!!!!!!
Even though the bitch was driving an Evo, I will let it slide, he is Polish after all. He actually did quite well. There was one other Polish dude, but I liked this guys car better. What really made the event awesome was we got down there super early and because we were one of the first 80 Subarus there some guy asked us if we wanted to go on the parade lap. Basically allowing you to drive the non dirt course that we were watching everyone race on. We got plenty liquored up and rolled a nice fat blunt for the slow ride around the course. Took out my frustration on the loaner Outback and gunned it around every turn as fast as I thought it could go with 5 people in it. Hopefully someone in the crowd got a good shot of a shitty Subaru flying around turns all hot boxed lol
I leave you with my aspirations for my car ....
A funny ass video that made me laugh my ass off at work ...
And a reggae song that I just can't get out of my head ...
Don't mind the video, its the song that I love. So thats about that, hope you are all kicking ass. Shake it easy ya'll!
P.S. Fuck the N.Y. Giants!!!!!!!!!!!!!!