Dude.
Yesterday was the best day at work ever.
No joke.
So I work as a server in a hotel restaurant and this weekend my hotel was playing host to a brand new gaming convention!
You know what that means? Nerrrrddsssss! Nerds everywhere!
My people <3
Better than that? My manager actually gave me permission to wear my Catwoman Costume while I was serving tables! Eeeee!!! :3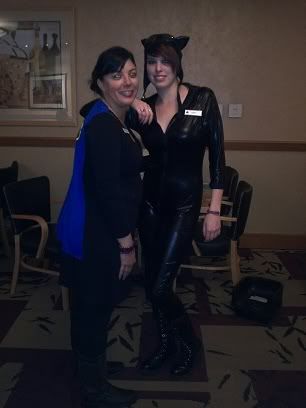 So here's myself and my coworker Rebecca. She wore a batman cape to play along xD
There's really nothing better than when your passions infiltrate your workplace.
There were Ewoks and Ghostbusters getting drunk at the bar, kilts everywhere, people playing Magic in the restaurant, and me freezing my butt off in my super-thin catsuit.
What more can a girl as for?
I got off work at ten, just in time for my best friend Maranda to come join me in the Waffle Cooking Contest!
Okay, so not really sure why they had a wafflle-off but we really weren't gonna ask questions. There were waffles to be made!
Maranda cooked the waffle while I worked on decoration...and this was our entry!!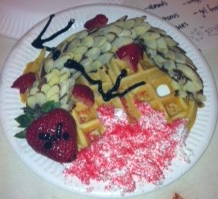 DRAGON!!!
He's made of a banana coated in chocolate frosting with individual almond scales, strawberries for the head and feet, and whipped cream fire.
Oh, and his name was Carl <3
We didn't win, but we did place second! Woo!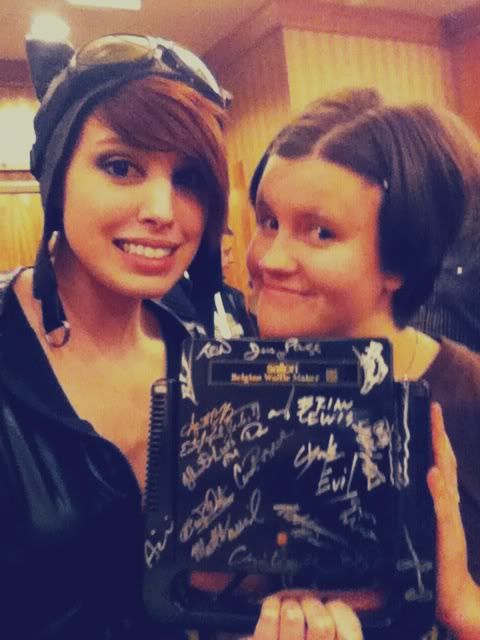 And won a pretty badass waffle-maker signed by all the rad people at the con.
I'm really having trouble putting to words how awesome that work-day was.
We need more nerds in the hotel, yo.
...hopefully my coworkers don't think I'm too crazy now eh?
Here, have some Boba as a thanks for getting through this post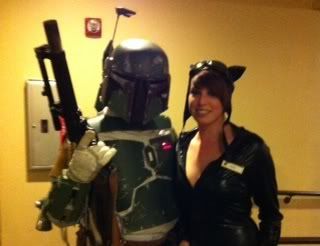 <3