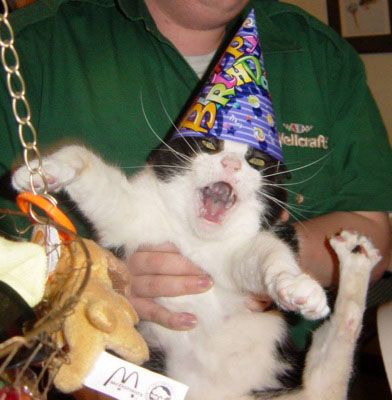 Happy Birthday too ME!!!!!!!!
Yes, on March 20th at 12:20 am I reached the amamzingly ancient age of 26! There were seriously times in which I wasn't sure if I'd make it this long (during a certain incident in Alaska, I won't repeat for the 10th time, for instance!). But make it, I have and, you know what? It feels pretty damn good.
Oh sure, I've got a few hang ups over it. The fact that I'm now closer to 30 than to 20 is a bit of a shock. So too is the fact that my Dad was married at this age; a bitter realization, considering I haven't been in a relationship for the past 3 and a half years now.
But, by and large? I'm doing good. I was thinking recently, trying to compare myself to where I was at this point last year, and the changes have mostly been for the positive. Back in 2007, in mid-March, I was still stuck in Alaska; the year was coming to an end, but I hadn't yet received an acceptance letter to Grad School. In fact, two of the three schools I'd applied to had turned me down, leaving me in a near panic as I looked forward to yet another year teaching. It seemed as if my entire future was nearing a collapse; as if I'd be stuck teaching for the rest of my life, unless I could find some ingenuis way to sneak out from my bonds.
But I DID get out. I was accepted to school, here in Fargo and, despite some upsets here and there, its been a good move on my part. I'm enjoying school, most of my professors seem to like me (although I suspect they still find me a bit cocky from time to time; a fair assessment). Being still new to town, I haven't managed to gather together the social life I wanted, yet, but I feel confident that it will come in time.
Those of you who have been reading this blog over the past year or so will have noticed a common refrain. Namely, that I missed who I had been, back when I was in college the first time. I was confident, an avowed optimist who was utterly convinced that things would always get better, as long as I put some work into it and strove to improve my lot. Oh, I was cocky as all hell, much of the time, and I had my ideocyncrencies; I enjoyed playing up my country-boy persona for instance (my thought being, at the time, that most college students go to college and do their best to act more cultured than they had before; I wanted to do the opposite. I had terrible luck with women (some things don't seem to change
). But, by and large, I was happy, focused on the future, and enjoying myself.
I don't know exactly how I did it, but I gave myself a great gift this past week; I managed to recapture a small fraction of that old attitude. Oh, not all of it; but if you reread the beginning of this jounral, you'll notice that a certain confidence, which has been heretofore lacking, seems to have found its way back into my writing. What did I even say, two paragraphs ago; I don't have the social life I want, but I'm confident its coming.
Christ, that feels good to say again, after months of being terrified that I was stuck as I was!
Speaking of gifts to myself, I did something else this past week which I think might be related in a roundabout way. You see, on my Birthday four years ago, my car got broken into. I'd come back from hanging out at a friend's place after a small party, drove back to my apartment, and collapsed into bed (it was late, and I had to work the next morning.)
I got up the next morning and drove to Wal-mart where I was working at the time. As I reached back for my smock, I noticed it was covered in small beads of glass. "Hmmmmm", I thought to myself, "this doesn't seem right." (I make no apologize for the slow state of my mind; it was morning, after all, and I was still tired).
I stood there for a few seconds before I looked up and saw one of my backwindows was shattered. "Well", I thought groggily, "that explains why there was that draft in here while driving this morning".
I began to look around for my CD case and couldn't find it. "Shit", I snapped. The full weight of what had happened began to settle in on me. "SHIT", I screamed, punching my seat in the process, "Shit, shit, shit, shit SHIT!"
I stormed into work, found a manager, and told them I needed to call the police. I edned up spending my lunch break filling a report at the station. It turned out to not be one of my better birthdays.
Now, despite my general optimism, I've got a sarcastic streak a mile wide. I'd remembered to take one of my CD cases in the night before, but had left the one in my car which contained my classic country collection (my pride and joy, truth be told. I'd spent a long time working on that collection, scrapping what money I had together to get it.). I don't know much about music theives; I can't put my self in the place of someone who's so sick in the head that he'd keif someone's collection like that. But, from what I gather of the sort, they are not the type that would want to listen to classic country; hard rock, sure. Rap? Definately. Metal? I suppose. But Classic Country? I would find that shocking.
So, this guy breaks into my car and manages to make off with the music that he'd be least likely to want. Even funnier, my copy of Offspring's Americana had been there as well, in its case. Now that, I figure, would be a CD the theif might enjoy. Except, the jackoff managed to drop that one into a snowbank as he made his escape! Some assholes just don't have any luck, I suppose. I wish I could feel bad for him.
Over the years since then, I'd managed to regain most of my collection, or at least get some CDs that replaced the music (even if they weren't the exact same album). There were a few, however, that I never managed to get my hands on. Either I'd simply forgotten that I had had that disk, I still thought I owned it somwhere, or my taste in music had changed. The later was the biggest factor; although I never ceased to be a Country fan, it got supplanted as I moved into other interests.
Well, a few days before my Birthday this year, I got the hankering to track down two or three of those old CDs. It took some digging aroudn town, and on iTunes, but I managed to get my hands on some of them. Most meaninful was "Timeless: a Tribute to Hank Williams" and "Dressed in Black", a tribute to Johnny Cash. I'd bought both CDs years before because of the presense of Hank III on them, and they had spent a lot of time spinning in my CD player.
Now, I don't know what it was, but having those old CDs really did me a lot of good. Its almost as if, having that old music back in my hands and hearing it for the first time in years, gave me some tangable link to my older self that had been sorely missing. IWhile listening to it, I felt the old smile crawl back onto my face, and I began to belt out these lyrics that I hadn't sung in so long.
Its funny, really. Most of the music I'm describing here, is happy in the least. Hank Sr could belt out a good party tune if he felt like it, but the best of his music has always been the tear jerkers. But, its always been this way with me; the sad music is always the stuff that makes me smile and makes me sing along. I've sometimes thought that its like a catharsis of sorts; if I'm feeling bad, being able to sing songs about others who've had it worse, flushes the negativity out of me and lets me move past it.
It was true back then and, apparently, its just as true now.
So, to make a long story short, I'm feeling a helluva lot better than I was even a week ago. I'm 26 years old now, and its going to be a good year! I'm in Grad School, I'm loving what I'm doing. Even more than that, though; I've finally remembered an old fact of late, which seems to have escaped me over the past three years. Namely: I _RULE_!!
I'm not in the least bit arrogant, of course
Anyway, this journal is getting long, so let me sign off with a funny YOutube video that, not only is the most inspiration (non-Irish) song I know, but also meshed with a video that gives a beloved Children's movie a whole new meaning
... is it bad that I always liked Scar, as a kid
Okay, time for episode 10 of the Tree-Splitter, for those who still care
Just for fun, I've also included a few snippets of the original poetry from my epic. Look for it and tell me what you think (Hint: Its at the end
)
The Tree-Splitter Episode 10
A Journey Ends, another Looms