look guys, this one i made only for you
(taken by Cudnovati prince)
i've missed you so much!!!
ugggggghhh, i've been dealing with so much shit lately. so much that i havent been able to post or reply or support as much as my SG addicted self would like to. im sorry, i cant tell you enough times how much your words mean to me. i've seriously been feeling very bummbed out about my whole personal situation but every single time i was able to log in for some minutes, i would get such a wave of positive energy, of good thoughts, of encouragements. you dont know this, but you seriously all helped me get stronger when i needed it. being part of this is so wonderful to me, i love your warms hearts! i wish the world could be like SGland haha
so to make a story short.. i got arrested, yes. im sorry but it gets me very sad to see that i live in a place where everything is so upside down that carrying a plant around is enough of a reason to take away your freedom' and squeeze you until the last drop of cash you can get sinks you into debt. this is mexico, corrupt, but just as beautiful. i cant explain how disgusting and dehumanizing the way the justice system works here and in a lot more places. cops admitting with a big smile on their faces that there is no such thing as justice here, at all times trying to break me into tears, lying about what was going to happen to me, etc.
basically i hate cops, i also hate generalizing but i still have to meet one good cop that actually does his job with honesty and good intentions, that's here anyway.
so here
.
A.C.A.B. fuck you cops, fuck you rotten system that oppresses the free thinkers! you can suck on this
......so after all that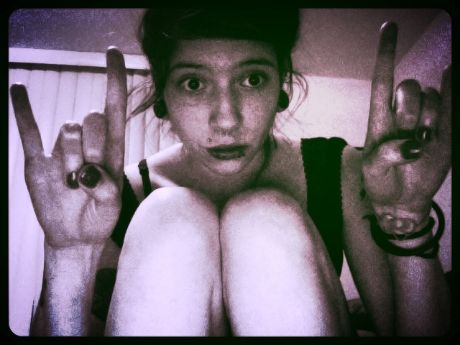 HELL YEAH, IM FREE!
even if im still dealing with a lot of shit from that, some good things came out of it.
for example we are currently pre cooking my new set that has actually been inspired by this whole pile of shit i got into. i wont give out any more details on that cause i want it to be a surprise, but it will be worth your while
im so exited.
on other news, check out my new tattoos
aaaaand this baby on my leg !!!!
the one on my lower arm is also kinda new
i also want to ask you to please like our official SG Mexico FB page
like us and say hello !
I also made a page
give me some love if you can, FB people are such assholes
Wolf Suicide on FB
and of course im a tumblr addict
follow me :3
thank you and i love you