I had the most incredible day earlier this week. If life was an X-Box, I would have unlocked a most coveted achievement.
I got to meet, talk to, and, yes, even touch...Alan Rickman.
(I also got an autographed copy of Die Hard!)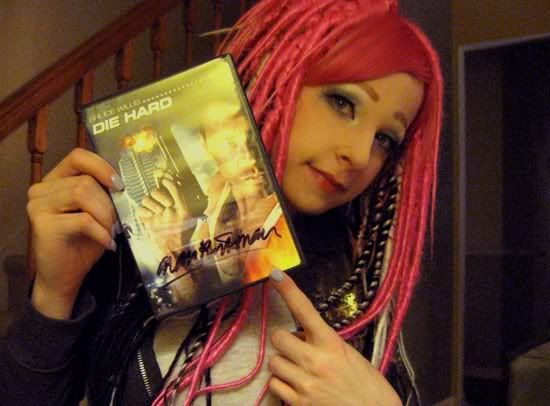 Supporting theaters and the arts is important to me and so I will often sign up for membership programs to theaters that I plan to visit a lot. (You can do this with museums as well...it is totally worth it!) Aside from getting discounts and better seating to shows, many of these programs will throw parties and host special events for the members.
BAM
is one of the best at doing this. They constantly out-do themselves to the point where I often end up donating more money to them because I feel guilty for accepting so much of their hospitality to their "Friends of BAM".
One of these special events ended up being a Die Hard screening with Alan Rickman there as a special guest. (He is the Chair person for the Friends of BAM program this year. See how awesome he is?) Of course, I absolutely had to go to it.
The day was great from the start. I ended up taking my friend (and my site assistant) Vanessa with me to the event. It seemed appropriate to ask her since Die Hard is one of her favorite movies. She loves Bruce, I love Alan.....you just can't beat that combination.
We had gotten up to NYC much earlier than we had planned so we went out to eat with my friend Anna. Later, we returned to the theater to wait for them to start letting people in.
Fortunately, we didn't have to wait long. They started letting people sit down in the theater well before the start time. Since we were so early, we grabbed front row seats. Not the most ideal seating for watching the movie but it was prime seating for the Q&A afterward.
The Q&A for this event was a vast improvement over the Artist Talk that I had been to last month. It was no fault of Mr. Rickman's or his co-stars of course...the interviewer for that event was just awful. His questions were longwinded and almost nonsensical. He was trying terribly hard to be clever but ended up just droning on and on. I think that if you timed how long each person got to talk, he would have been the winner by a landslide. I was very happy they did not use him but instead choose a delightful, soft-spoken young woman who asked questions that were quick and to the point. This allowed for maximum Alan Rickman speaking time.
Halfway through the Q&A she allowed the audience to raise hands and ask questions. I have to be honest, I go to a LOT of panels, artist talks, etc...and I never ever ever ask questions. I don't know what came over me, but I just had to ask Alan Rickman.
I kept raising my hand, hoping to be called, but for some reason the interviewer would not pick me! She would scour the room looking for another person to call on besides me. Finally, (and this part is awesome so pay attention) Alan Friggin Rickman (yup, he just earned "Friggin" as a middle name; a high achievement in my book) looked right at me, motioned to me with his hand and said; "That girl has had her hand up for awhile, why don't you call on her?"
I was positively elated and taken aback. Alan Rickman called on me. Perhaps without knowing it, he even stood up for the overlooked underdog. (Where were you in High School, Mr. Rickman? Hahaha) Well, this was all well and good but it made asking him a question about a thousand times harder. My head was spinning and he was looking right at me. Somehow I managed to muster the courage to speak and did so rather smoothly I might add! I asked him how he had began his relationship with BAM and how he enjoys his long stays in New York. His answer surprised me when he admitted to being a patron first and really falling in love with the space (stage area). He also said that New York is like a second home to him. (How lucky that is for me!)
After the Q&A we all headed up to the reception area for drinks and food. I was delighted to find out that Mr. Rickman would be joining in on the party. Poor guy, he really couldn't walk around too far though. He ended up getting stuck in one corner of the room as people took turns approaching him and showering him with (well deserved) words of kindness. Vanessa and I were not standing very far from where he was and I thought that I should maybe go over and give him my compliments for all the great work he has been doing at BAM. After downing a glass of red wine (which is a lot of alcohol for me, as I hardly ever drink) I made my way over to where he was standing.
I stood off to the side a bit and waited until those he had been talking with to finish speaking. After they had left, more people immediately rushed in to speak with him. This continued this way for quite awhile. Apparently, you had to act fast if you were going to get any time with him. Well, interrupting and being pushy is just not in my nature, so here I was again, constantly getting overlooked. (A pretty enormous feat for someone with pink hair, I might add!)
Again, Alan Friggin Rickman to the rescue!
I don't know whether he just felt bad that I had been standing there for awhile or perhaps noticed that people kept jumping in ahead of me (story of my life!), but he finally turned right to me and took my hand to shake it. Damn you, Alan. You caught me off guard again! I stammered a tad bit through my conversation with him. After all, here I am face to face with my most favorite actor...and I touched him! (He has really nice hands, by the way. I was slightly embarrassed to be touching his with mine as I have been taking aerial silks classes lately and the silks really callous your hands.) I thanked him for all the work he has done with BAM as of late and told him that I hope he would continue his relationship with them...maybe do some more plays or events there. He said he was definitely open to the possibility but has nothing concrete planned as of now. He was very warm and kind. A truly wonderful person. I shook his hand once more before telling him simply, "You're the best."
Since that night, I have been on an absolute high. I keep thinking back to that day's events and it makes me smile. If you had read my blog a few posts back, you may remember the trepidation I felt as far as actually meeting Alan Rickman goes. I have to say, I was silly for thinking he would be mean or snarky with me. He was very sweet and I really should have thanked him for his efforts in ensuring that I was not overlooked and giving me a chance to speak with him twice that evening. I could not have had a better experience and I will remember that day for all times.
Vanessa and I at the BAM reception (thanks to the BAM photographers for taking this image!)...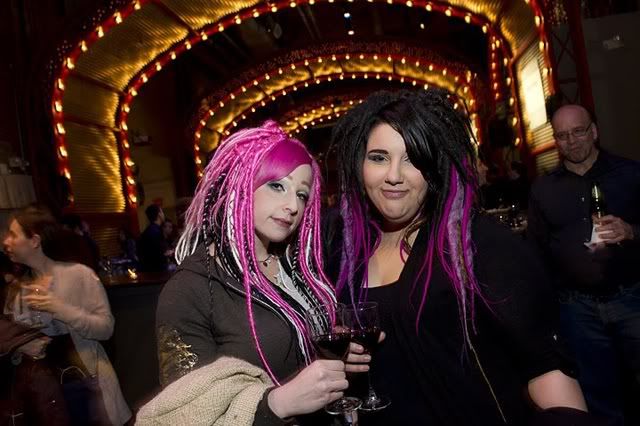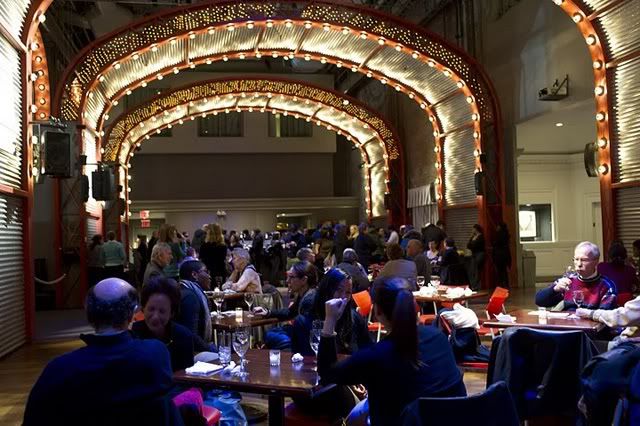 I took these pics of Mr. Rickman while at the Q&A. I hope he doesn't mind me posting them! (I think he looks rather cute in them though.) I took them quickly when he first sat down so as not to be rude during the talk.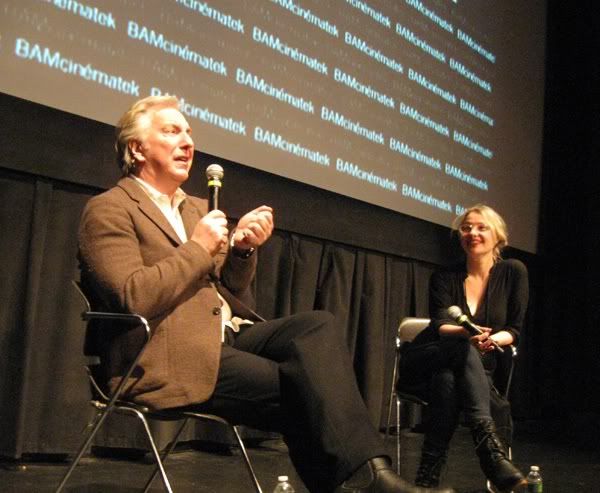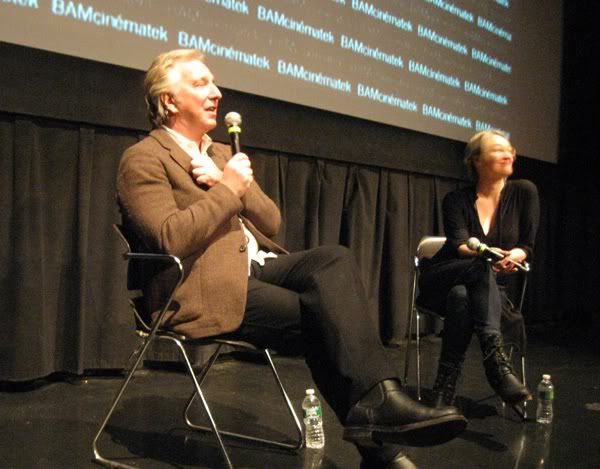 By the way, I know that one of the BAM photographers was taking pictures while I was talking to Alan Rickman. I would love to know how to get ahold of these images. If anyone knows the BAM photography staff, could you please point me in their direction?