Last night was the best night of my life.
Okay...I may still be coming down from my fan-girl high right now but last night was pretty friggin awesome!
I ventured up to the BAM Harvey theater in Brooklyn yesterday (in a snow storm, mind you) to see Alan Rickman perform in the play
John Gabriel Borkman
. I know....Alan Rickman....acting on stage...at the BAM center! It was too good to be true when I found out about it a few months ago. (And thank goodness I am a fan of the theater and keep tabs on upcoming shows...lest I may never have found out about it at all.)
Thank goodness also that I donate to theaters and sign up for their membership programs so that I can get choice seating. I managed to get front row seats to the play last night. Front row seats at the Harvey Theater (like many small theaters) are right on the stage. This puts you within mere feet of the props and...best of all...the actors.
Before I regress into my "creeper" mode and make a total ass of myself...let me first say that the play was absolutely amazing. It is a revival of the 1896 play written by Henrik Ibsen...the famous Norwegian playwright. I have not had a chance to read the original play (you can download it
here
if you like) but the adaptation was quite good on its own. The caliber of all the actors performing in it could have produced nothing less than perfection. Fiona Shaw puts so much emotion into her acting that you truly feel the need to get up out of your seat and console her at times.
And then there was Alan Rickman....
*creeper mode commencing*
I must confess that although I was absolutely delighted to get front row seats, I became quite nervous when it actually came time to sit there with Alan Rickman so close to me. I suppose that in my head, I did not imagine the actors would come so close to the audience. Although I lust after Mr. Rickman and the mere thought of him warms my heart (and also my loins)...being that close to him is actually quite intimidating. He has an air about him that could be described as stoic and maybe even a tad bit superior. For this reason, I am terrified to actually ever meet him or come face to face with him. I have this horrible feeling that he would say something mean and I would cry and it would be a very bad day indeed.
But I do like to look at him from a safe distance....and listen....oh yes...I could listen to that man read the phone book for an eternity.
Seeing and hearing him in person and at such close proximity is absolutely breathtaking. I still can't believe it! I think back to last night and I get a tingling sensation all over my body.
I have a few images to give you an idea of how close I was to him. I would never do something as rude or awful as try to take pictures during the performance but I did take some before and after. (I could not resist!)
The theater: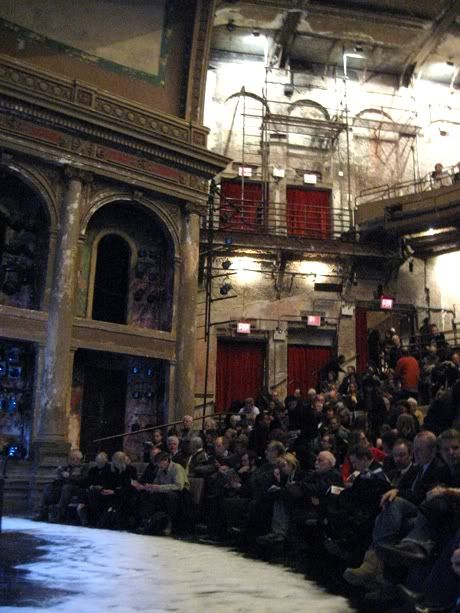 I took a picture of my feet on the stage to give you an idea of how close the front row is to the props and actors.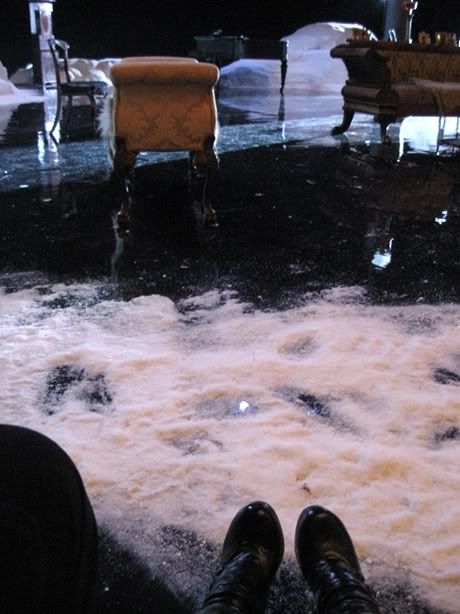 And the cast at the very end: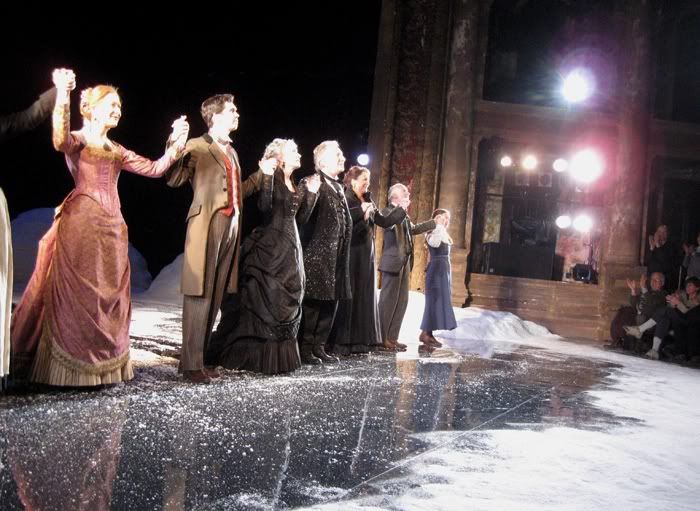 There were also a few famous actors in the audience as well. Most notably, Sigourney Weaver was sitting only a few rows behind me. She looks amazing, by the way. She passed by me in the lobby...and in person she is just so incredibly striking...and tall! I hope I look that good when I'm in my 60's.
Only a few more days and I get to see Alan Rickman again! That's right, I have tickets to the Sunday production as well. Errrr....and also tickets to another showing in February.
What can I say?
I love Alan Rickman.
It's my thing...let it go, okay?