It's that time of year again to be a consumer whore! ;p
I've had a few shoots:
Some drunk Christmas silliness with friends-
[Check out
Candylust.org
, my friend Candace (the sexy santa) is a super talented photographer <3.]


Some product shoots for a bridal store ClayBouquetShop



Upcoming Cosplay Deviants Riddler Set.



Some shots for Vivid's hair extension shop.



So I have to tell you how proud I am of SG's recent set choices in the last month or so, It was so nice too see so many of my good friends get sets bought, it really made me so happy. First Annasthesia becomes pink, then Eon, and now Osmoz... not to mention seeing Plum and Zephyr and Glitch front page always makes my day. (Speaking of Zephyr...I never realized that our names fit together hilariously perfectly to become "Zephyria", hahaha. I wish I realized it when our multi went up, haha.)

I think I'm in love:


Also notably awesome:



I decided if I ever get to go traveling I would LOVE to go to India during Holi. Come on, you know that looks like insane amounts of fun!!



I haven't been up to terribly much I started a female model, the body turned out great but she looked a little hideous so I spent a few hours giving her "cosmetic surgery" and now she looks significantly less derpy. Still needs work of coarse but it's funny seeing the before and after:


Speaking of CG, I'm working on a MFA thesis idea involving childrens art (ages 4-8), if anyone has anything from thier kids they could send me, I would be grateful. ts going to be a 3d animation, useing the drawings as both textures and the basis of some character design, so mainly big messy scribbles and different types of original characters would be great. I would give full credit to the kids whos drawing I use, so please include thier full names and ages. Also if the images could be as high res as possible that would be awesome. Thanks!

I was quite inspired by these two sources, although I plan on doing something different.
1. What childrens drawings would look like if they were drawn relistically.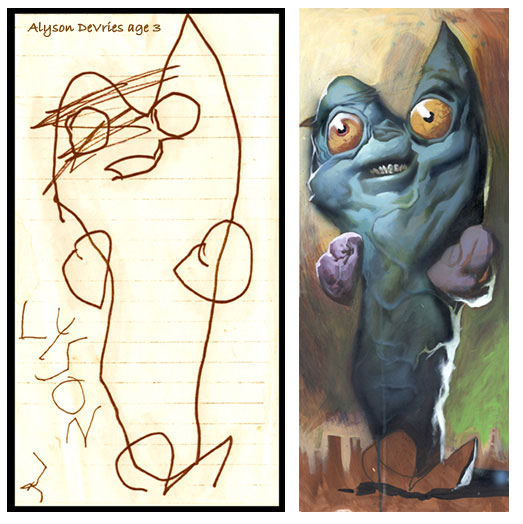 2. Company makes custom stuffed dolls from kids drawings



Reading a neat book called "The Accidental Masterpiece" where I found this lovely quote, to calm my ever increasing nerves regarding my MFA and Career:



Learn to say fuck you to the world once in a while. You have every right to.

Just stop thinking, worrying, looking over your shoulder, wondering, doubting, fearing, hurting, hoping for some easy way out, struggling, gasping, confusing, itching, scratching, mumbling, bumbling, grumbling, humbling, stumbling, rumbling, rambling, gambling, tumbling, scumbling, scrambling, hitching, hatching, bitching, moaning, groaning, honing, boning, horse-shitting, hair-splitting, nit-picking, piss-trickling, nose-sticking, ass-gouging, eyeball-poking, finger-pointing, alleyway-sneaking, long waiting, small stepping, evil-eyeing, back-scratching, searching, perching, besmirching, grinding grinding grinding away at yourself. Stop it and just DO.

Dont worry about cool. Make your own uncool. Make your own, your own world.


- Sol LeWitt to Eva Hesse

I also came across this Jem today:


Young people of America, awake from your slumber of indolence and hark-en the call of the future! Do you realise that the fate of the world and of generations to come rests on your shoulders? Oh ignorant youth, the world is not a joyous place. The time has come for you to dispense with the frivolous pleasures of childhood and get down to honest toil until you are sixty-five. Then and only then can you relax and collect your social security and live happily until the time of your death. Fearfully and disgustedly yours, John J. Righteous-Hypocrite.


- Hunter S. Thompson at age 18, haha.

Random cute SG comic snippet:



Random photo of me from NYCC in this months Inked:



So in other news if you are local to NYC there are some pretty fun things going on in my neighborhood that I'll be going to and you should to if you want to dance dance boogie with me and have an all around awesome night.

First Monday, December 12th Dir in Grey is playing with The Birthday Massacre which is guaranteed awesomeness.



(There is also a In-Store Signing + Meet & Greet with The Birthday Massacre)

Then Friday, December 23rd Cybertron - 9 Year Anniversary / XMas Edition at Gramercy Theater.



If I don't have a new blog before the new year, Happy Christmas/Hanukkah/Kwanzaa/New Year/ and what ever the hell else you might celebrate, haha <3.


While on the subject of christmas pictures, a closing note, I'd like to say I don't know what's more disturbing, that there are so many variations of the "Santapede" to be found on the internet, or that I saved them all xp.