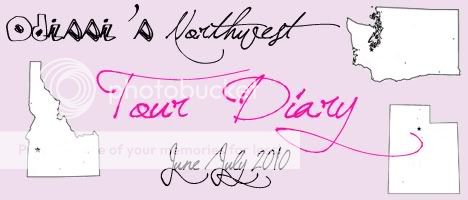 The Journey Begins.
My three week tour of the Northwest started out the way most of my misadventures do, with some kind of airport purgatory. Im convinced that I did something to put my travel karma in the negative Maybe it was the time I hit the small child sitting next to me in my sleep on a hungover EasyJet flight from Toulouse thinking its crying was the sound of an alarm clock that desperately needed turning off. Maybe it was the time I traumatized a sweet middle aged flight attendant when she caught me getting freaky with my man under one of the complementary in flight blankets Or maybe Im just plane unlucky when it comes to airplanes, but however you want to justify it having a flight cancelled and being rerouted through 4 different states on a journey that must begin at 3 in the fucking morning if you want to reach your destination by midnight is not only inhumane but really freaking uncool.

But alas, 12 hours later I eventually made it from my temporary home in sunny Santa Rosa Beach, Florida to the glorious Potatoland, (a.k.a.) Boise, Idaho

It may seem a random destination for a globe trotting musician but Ive been looking forward to this trip since last year, when I first met the amazing group of people who would be adopting me for the next 3 weeks.

After a day of rest and a happy reunion with my (for the moment) long distance lover / boyfriend / partner in crime we found ourselves on the road towards the first stop on our mission to bring loud music, mayhem, silly accents, and debauchery to the stereotypically conservative North Western, States of America.
Esthetic Evelution in Twin Springs Idaho From here on out theres no turning back
Esthetic Evolution was an interesting festival experience. It reminded me very much of a mini Burning Man as it was based around theme camps with no shortage of flame throwers and an eclectic mix of people and pyromaniacs alike. There were even some familiar sights that admittedly looked a little out of place away from their dusty homes on the Black Rock City Playa, (the Ganesh Art Car, the Altitude Lounge and the beloved Bacon Camp for instance). It was a bit dirty, a bit messy, and a bit chaotic but all in all it was a great warm up for the weekends ahead, Meat Katie rocked the Main Stage on Saturday night, while myself and Dylan Rhymes threw down a surprise back to back set on the Ganesh Art Car (not long after we were busted getting jiggy in the cabin showers oops! Let that be a lesson learned always check to make sure the door is locked)
Salt Lake City Suicide Girls, Blue Fluffy Drinks of Doom, Expensive Habits and my Giant White Penis
After a blurry week of post festival recovery back in Boise and a shaky departure due to a dead battery in an RV
(How many mongs does it take to move a Winnebego?)
I
found myself headed toward another seemingly bizarre destination. Salt Lake City, land of ludicrous drinking laws, the Mormon faith, and ridiculously hot tattooed ladies. The party started (literally) the moment I stepped foot inside the venue as I had arranged a hot date with
Eaksie
for some naughty double photoshoot action before the club was set to open that evening
.
The set is themed "Expensive Habbits" and was shot by the awesome
http://www.natdes.com/
...
He was an absolute pleasure to work with, and for someone who has just started out shooting models I must say I was super impressed when I got the proofs back.... Hands down this is gonna be the most awesome set I've ever been involved in!
Eaksie
is so freaking HOT in real life and I had so much fun shooting with her... (which really shows in the photos... ) OOoOOoOoOoh EXCITING! I cant wait till they're photoshopped so we can submit them!
Anyways
Once that was out of the way it was business as usual as far as club nights go
I got to meet
Gil
who might I add is one hell of an awesome photographer! He was the "official photographer / documenter of debauchery" for the evening... see all of his photos from the night (which include many scantily clad women) HERE:
http://www.flickr.com/photos/thatguygil/sets/72157624387713256/
Strangely it wasnt until after the party that things started to get interesting.
After a failed attempt to continue to the afterparty, we ventured from the Venue (The Hotel) back to well the hotel or the Crack Shack as we affectionately named our Motel 6 accommodation, and then onwards to Dennys for a greasy late night breakfast in an attempt to quash our impending hangovers. (Did I mention that I had an 8AM flight to Seattle in the morning?) Uff.
On the way back to the hotel we were harassed by a scary hobo Luckily our fearless leader, Justin the Brave, was there to fend him off with the Quiltonian Force!
(All hail the drunk and easily amused )
Seattle(AKA The City I Rather Not Talk About)
I should have known Seattle was going to be One of those trips when I was told off at the airport at 6AM in the morning for sitting in the Handicapped and Special Needs section at my departure gate. My response of course was something along the lines of Hey Lady, given the amount of alcohol I consumed last night, Special Needs is actually a very accurate description of my current mental state.

I spent my morning in Seattle nursing my hangover whilst watching Alice in Wonderland, The Musical Porn (YES Such a thing does exist! and if you dont own a copy already I suggest you add this to your DVD collection immediately!)

That was followed by a fairly civilized lunch with the girls which somehow turned into a not so civilized girls night in, during which my dearest girlfriend Becky introduced me to my neweset alcoholic love Absinthe cocktails! Yummy!
The next morning things started to go downhill Starting with Englands disastrous world cup performance, continuing on to a rough DJ gig at Contour, and finally ending with the trauma of my suitcase being stolen out of my friends car. Wh0oo! Ok So I guess every night cant be awesome. Im slightly annoyed that some crack head is prolly wearing my expensive Agent Provocateur lingerie on his head whilst wandering around Downtown Seattle, but I guess thats just another life lesson to be learnt never leave valuables in a car that has a dodgy lock. *sigh*
Adventure Mongs invade Riggins Idaho
With every cloud there is a sliver lining The stolen bag presented me with a good excuse to go shopping (and what girl doesnt love shopping right?)

A trip to the mall and a new wardrobe later and once again the crew and camping gear were piled into cars for a road trip to (middle of fucking nowhere) Riggins Idaho. Actually I feel kind of bad calling it the middle of nowhere, it sounds derogatory. In all honestly, Riggins Idaho was one of the most beautiful places Ive ever had the pleasure of visiting (and that says a lot coming from someone who is fast running out of room for stamps in her passport). Thursday we were given the opportunity to experience this wild and rustic landscape the way it was MEANT to be experienced, with a heavy dose of action and adventure Idaho style.
A Helicopter ride, a near death white water rafting experience, and an evening of sipping 44 north (Idahos own huckleberry flavored vodka) cocktails around a hot spring jacuzzi secured this event an award for most memorable and awesome DJ gig experience of all time! Once again big love to those who made it all possible It may seem like the last place on earth you would ever expect to have an electronic music festival, but for the avid adventurer and music connoisseur wild venue really does have everything you could possible want from a festival experience and more. Watching the sun set on the Thursday night before the party I couldnt help but think the promoters hit the nail on the head when they named this unusual event Utopia.
As for the party itself.
Friday Night I had the pleasure of rocking the poolside for one of the most lively, up for it crowds Ive ever had the pleasure of playing to. This really was one of those special DJ experiences, one Ill look back on and treasure for years to come. For those who missed it, or those who were there and want to relive the evening I uploaded a recording of my set which can be downloaded here:
odissimixportal.blogspot.com
PLAY IT LOUD!
Saturday night the awesome knob was cranked +10 when Dylan Rhymes took over the controls to deliver a solid hour and a half of underground electro bangers A perfect set up to a late night of laughs shared with both old and new friends for life. Sometimes the stars align and for a moment everything just seems right. This was one of those times.

Sunday morning was spent lazing in the hazy afterglow of post party awesomeness, enjoying the last day of sunshine and driving bass as it bellowed through the canyon.

And just like that, as quickly as it started the adventure was over.

The Northwest of America is home to some of the most beautiful, genuine and amazing people Ive ever come across in my travels. This off the beaten path destination is often overlooked in the snobbishly cosmopolitan world of club nights that tend to only give praise to the obvious costal areas and big cities where superstar DJs are a dime a dozen. Ive only just got back to the reality of normal sleeping patterns and a familiar bed, but already I find myself anxiously awaiting my next excursion to the region when I go back in a little over a months time for a road trip from Boise to my other home in the middle of the Nevada, Desert.

Big love to everyone who made the past 3 weeks happen. You lot really are the best. but I have a feeling you already knew that.

Until next time.
XOXO
Hailey