Well well well... Looks like it's time for a long overdue update... sorry for my extended absence... I've been on the go living a non stop life of adventure for the past 30 days
Mid June brought with it a visit from a longtime friend, troublemaker, and female partner in crime, Jen Lasher. (She.s also a musician. If you like my stuff... you'd love her as well! Check her out at myspace.com/jenlasher)
Anyways...
A couple days of couch surfing at mine pretty much turned into two solid weeks of intoxicated evenings, long days in the studio and one very bizarre, ultra spontaneous (and very very messy) excursion to Brighton to catch a Stanton Warriors gig at Concord2...
My above mentioned sister from another mistah Jen =) (isn't she a hottie! meow...)
so yes... as I was saying...
I barely had time to recover from the hangover before I found things really getting hectic
on Monday the 29th.
I'm sure there's been a bit of speak about it on here in various places / blogs... but for those who weren't aware I was cast in a music video shoot for "The Hot Melts" alongside some of the other UK Suicide Girls.
OMG what a night?! Honestly I thought I'd just be rocking up in my underwear and dancing round a hotel room for a few hours... but somehow I ended up getting thrown into a long hardcore acting session after the director decided I should play the lead role of... well... a coke whore...
(I guess that's what I get for turning up looking all raggedy / cracked out from a stressful day of preparing for my trip to America) doh!
I can't complain though! It was a wicked night! Apart from the hangover and facing Tuesday with the sniffles which were the only real downsides... how often do you get to get absolutely battered in the name of art and make out with ridiculously hot half naked girls on a Monday night? Exactly! One must take these opportunities when they arise!
This was the aftermath at about 3am... Yeah... I shamelessly admit that I was in fact as fucked as I look! haha!
A few shaky hours of not sleeping later... And I was in a taxi bound for Heathrow,
where I boarded a plane for San Francisco only to spend the next 11 hours in travel hell (a.k.a. middle seat on a long haul flight with a savage "I put things up my nose that shouldn't have gone there" jittery hangover... DOH!)
When I got to the west coast, I crawled straight into my Hotel bed and passed out hardcore! The next 2 days were a bit of a blur of jet-lag, photoshooting and monging in my hotel room going through new music for this gig I was booked for on Thursday night =)
The party was fucking awesome! West coast kids are sooooooo sweet and I can honestly say I've never met such a positive breed of people! Sadly I don't have any pictures from it at the moment, but hopefully will soon... (although I'm not entirely sure I want to see photos of myself dripping in sweat jumping around on stage like a retard in my bra...) I guess I really should have learned my lesson about that at the video shoot! Haha! Derrrr...
I really regret the fact that I didn't get to hang around and afterparty with all the lovely people I met =( but alas! With a 10am flight to Florida it just wasn't a good Idea! (next time... next time!... I do hope I have the chance to go back soon!)
So yes! From the gig...to the hotel...to the airport to subject myself to another 8 hour sick form of travel torture in the shape of a multi connection journey to the Florida panhandle for two glorious days of shopping, beach, modelling, getting tattooed and chilling with my parents! =)
Most exciting was the photoshoot I got to do with Dijitil! I've wanted to shoot with him for AGES so when he agreed to shoot some new press shots for me I was absolutely delighted! We went with a strange "Snow White's Cocaine Tea Party" theme and I don't think I could possibly be happier with the result! (JOE I LOVE YOU! YOUR PHOTOSKILLS ROCK!)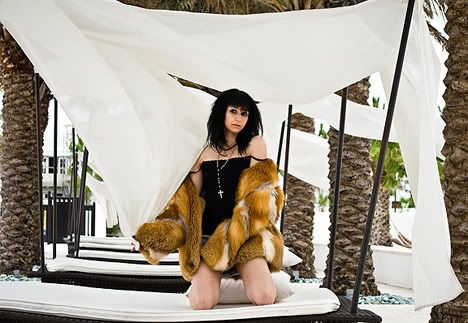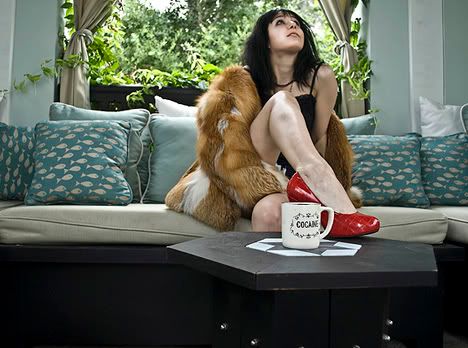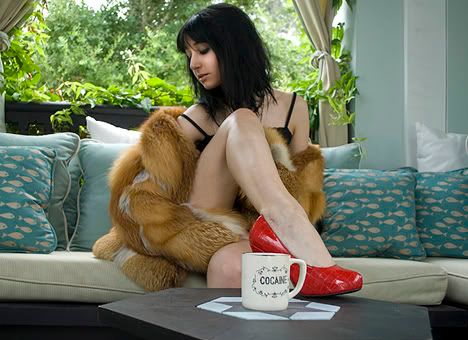 and to round off a successful mission across the pond I took a last minute visit to Alan's Cool Ink in Destin to put my skin in the capable hands of Sandy one of the best tattooists I've come across in a long while! She did an AMAZING job on my chest piece and I would seriously recommend her to ANYONE in the panhandle looking to get work done! I'll post some better pictures next week when it's fully healed =) meanwhile enjoy a slightly amusing parting photo of me pretending im not in pain while getting inked
Oh yes... in case anyone is ever considering subjecting themselves to 22 hours of airports, connecting flights and layovers with a fresh tattoo... make sure you take LOTS of sedatives with you... or at least enough money to get properly lushed in the airport bars... else wise it's quite possibly one of the worst forms of self inflicted torture you will ever endure
Don't say I didn't warn you!
ANYWAYS!
Thanks for taking the time to read this! I'll update again soon with photos from San Fran, some music news and hopefully some shots from the Lot49 boat party this weekend (which I believe is being invaded by the lovely Disco and Bow as well! Yay!
Have a LOVELY weekend everyone! Watch this space! I'll be back with more soon! =)
xO