My set is queued! Yay!
I think I might be getting a little sick. My throat hurts a bit. Uh oh.
Last night we went to this bar called Sports Cafe. Since it's like one of two places that plays American football here, there were famous people--David Hasselhoff and Joshua Jackson. I didn't see them though because it was so packed. The Steelers got their asses beat. Even the Terrible Scarf (my bright yellow scarf that we waved around like a Terrible Towel) couldn't save them. I have absolutley zero interest in football but this trip has given a newfound appreciation for all things Pittsburgh. I have an over abundance of Iron City pride right now.
I need to come home. I would say that 80% of the kids in this program are huge douchebags. There is this one kid, whom I hate passionately. He is such a tool! He's not a frat boy, but he has that stereotypical frat boy mentality. Good thing I'm laying off the booze or I know I'd be getting smashed and trying to fight him or something. He acts like he's still in high school. A lot of the people in this program do. Gross. Brian always says that he hates college kids and I never really understood that until now. Typical college kids definitely suck.
Here are two more reasons I need to go home:
1) Marisa: i know, i was sitting on the beach and i was writing in my journal about you and this guy asked me what i was writing and i started randomly crying to a mayan indian
Marisa: poop face i gotta go, shower and do all that before classes start stuff, like find my sanity and pick up my cardboard cut out of you at kinkos so i have someone to talk to lol
2) Brian: i miss getting drunk and smoking and watching aqua teen and having awesome sex then going to bed and waking up and making my girl breakfast, and getting you glasses of water cause your usually hung over;-)
I can't get enough of that Scissor Sisters song, "Take Your Mama." These lyrics are fucking fabulous:
"Gonna take your mama out all night
Yeah we'll show her what it's all about
We'll get her jacked up on some cheap champagne
We'll let the good times all roll out
And if the music ain't good, well it's just too bad
We're gonna sing along no matter what
Because the dancers don't mind at the New Orleans
If you tip 'em and they make a cut
Do it
Take your mama out all night
So she'll have no doubt
That we're doing oh the best we can
We're gonna do it
Take your mama out all night
You can stay up late
'cause baby you're a full grown man"
Buy me this bathtub.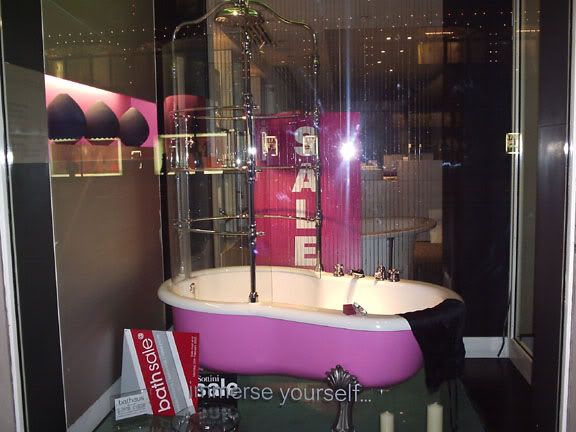 Kthnx.
I guess that's all for tonight.
Love,
Monroe