Why am I so fucking weird?
Boys make me nervous and depressed. Actually it's probably more along the lines of me making myself nervous and depressed. Blah. My head is a mess.
This duder is curled up next to me, making me feel okay: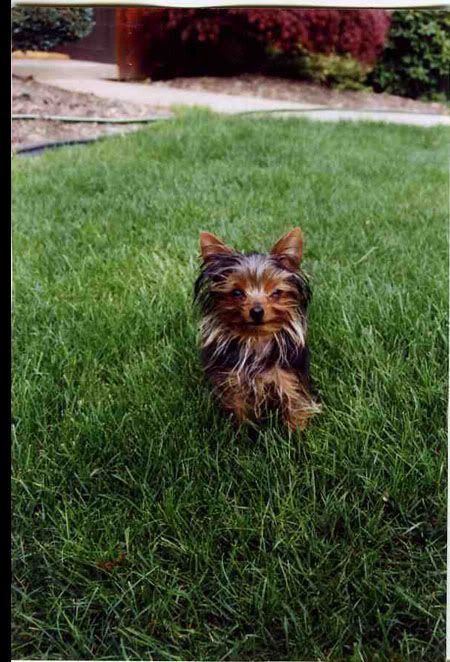 He's my little man♥ He won't let my cats sit by me though. He tries to bite them because he's a little jerk.
I'm watching some show on MTV2 and the dude definitely couldn't pronounce Le Tigre correctly. Like it's really difficult...
Tomorrow I leave for Florida which means I probably won't have internet access until the 29th. What will I do with myself? Leave me fun stuff to come back to.
Merry Christmas and all that.
Love,
Monroe
PS. Supposedly, Gwen and Gavin are splitting up. If it's true, that makes me really sad.
PSS. I stole this from Eliza's journal. It's amusing.
YOUR PORN STAR NAME: (NAME OF FIRST PET + STREET YOU GREW UP ON)
I already have one, next question?
YOUR MOVIE STAR NAME: (Favorite Snack + GRANDFATHERS FIRST NAME)
Munchies William.
EXOTIC FOREIGNER ALIAS: (Favorite Spice + Last Foreign Vacation Spot)
Curry Canada.
"FLY GIRL" ALIAS (a la J. Lo): (First Initial + First Two or Three Letters of your Last Name)
J. Mo!
ICON ALIAS: (Something Sweet Within Sight + Any Liquid in Kitchen)
CandyCane Sprite.
DETECTIVE ALIAS: (Favorite Baby Animal + Where You Went to High School)
Puppy Peters.
BARFLY ALIAS: (Last Snack Food You Ate + Your Favorite Alcoholic Drink)
Chips Whiskey.
SOAP OPERA ALIAS: (Middle Name + Street Where You First Lived)
Christine Woodside.
ROCK STAR ALIAS: (Favorite Candy + Last Name Of Favorite Musician)
Starburst Stefani.