Last night I had a dream that I was hanging out with Motley Crue. My hair looked sweet, I was taking pictures with Tommy Lee, and Nikki wanted me to design their T-shirts. This is not the first dream I've had in which I'm hanging out with Motley Crue. Is anyone else weirded out by the fact that it's suddenly hip to like them. Weirdos. I've liked hair bands since I used to watch them on MTV with my babysitter.
Anyway.
Today, I took these guys: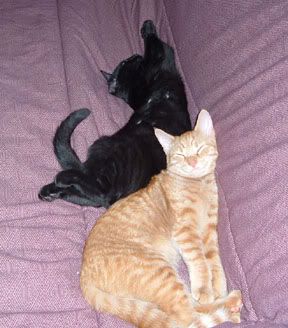 to get their nails clipped.
Then, my mom and I did a little Christmas shopping, then we met my dad and his ultra-self-invloved friend for dinner. After that, we went to the Upcounty Auction. It was pretty sweet. If you've never been to one of these auctions you're truly missing out. I could describe it, but it would take too long and no one would read it, so I'd be wasting my time. It's basically very.....Southern.
I'm still feeling a bit like ass today
I'm thinking of going platinum and I mean WHITE blonde. Opinions?
Love,
Monroe