Hi.
I'm in North Carolina now to see my parents. Down in the dirty dirty. I finally got to see my kitties! And they remembered me! They're so fucking cute.
Other than that.....I feel like this
today.
Last night was my going away party. It kind of sucked. But there were a few entertaining moments.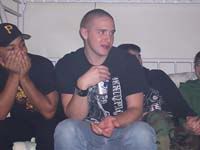 Tyler drooled CHAW on himself: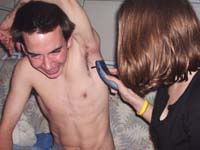 Marisa shaved Paul's pits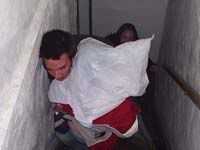 Paul played Boggle by himself and made up words like "aretta, the past tense of a person who has experienced euphoria but was previously abused by a cokehead mother. The present tense is urethra" Then he decided to jump his rommate when she came home and stick her in a garbage bag.
I'm really good at being/making myself depressed and insecure. I worry about stupid high school-ish things. I turn things over and over in my head, things I thought I were over and done with at this point. Ugh. Blah.
I think I'm probably going to throw up at the airport when I leave for London.
Being so in love is so fabulous and then it really, really sucks at the same time.
I had to go to the vagina doctor today and it was so awkward because he was first of all, a he, and secondly, defintiely only a few years older than me. Eww weird.
Well, I'm off to bed.
Love,
Monroe