[ mood | good ]
[ music | Lamb of God- 11th Hour ]
Today was a good day.
I finally got my computer back! I have my music now! And Photoshop!
I made friends with some old black dude at the bus stop today. He was like "I used to be a hard man! I got gunshot wounds! I got knife wounds! Now I'm just old!" He told me that jealous boyfriends are bad, Bush must be defeated, that I'm beautiful and smart and that I'm short because I smoke. Hahaha.
The heat is finally turned on in the apartment.
Skinhead Tyler, Buck Nasty, Eva and I went to the Cramps show tonight. It was expensive, but worth it. They put on a fucking great show. Ivy is a woman after my own heart. I love how she shakes her hips and bobs her head just a little, but mostly scowls and pouts and sighs and looks like couldn't be more bored. It's weird thinking that they're around my parents' age. Ha.
I also got a really comfortable pair of sweatpants today.
Yay.
The kittens are sleeping on the chair behind my big ol' ghetto booty. Awww.
Now if only the boy were here to cuddle with me. Hmmph.
I found this picture today. It's so old! Look at what a cute little punk I was. Awww.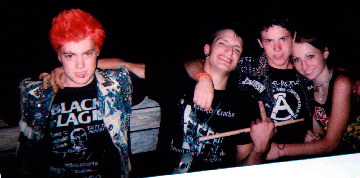 Love,
Jess