new flyer for my radio show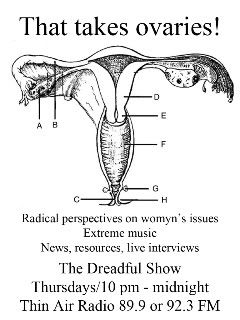 also streaming live at
Thin Air Radio
Yeah, I know about the book. No, my show isn't quite like that.
I'm in Portland right now. I had a lovely vegan lunch with
Silencia
,
Casper
and
Doxie
, who are three of the nicest ladies in the world, and I'm sorry for you if you don't know them.
I also did a shoot with Silencia, so....keep your eyes peeled!
Lately my partner and I have been enjoying a lot of vegan food, hooliganistics and live music, in that order. Traveling is wonderful because it affords more opportunities for all three of those.
Going to see
Iskra
,
Order of the Vulture
,
Samothrace
and Arterial Splatter soon.
What have you been listening to lately? Give me your top three.
xoxo