This past weekend I flew to LA to interview the band
In This Moment
for
EMG TV
with the always awesome
Chloe
.
And, I have to say, those guys are some of the nicest you'll ever meet! They were funny, sweet, and we had a great time hanging out with them. They welcomed us onto their tour bus and showed us what life on the road is like. Poor Maria is currently a little under the weather, but not only did she power through in sound check AND an amazing show performance, but she took the time to show us around her bunk in the bus and chatted with us and our cameras. She's a sweetheart.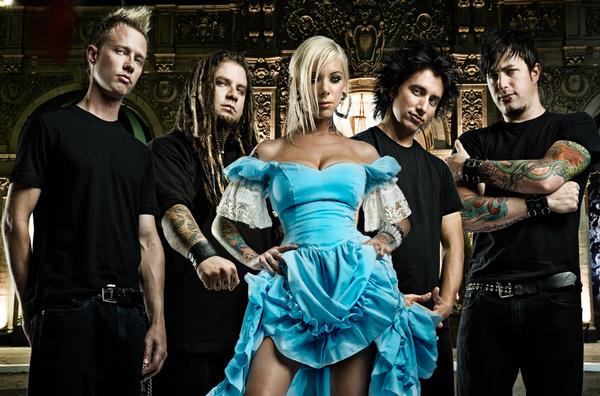 Oh, and they've got a new bassist...and, as a fellow bassist (although, I play a variety of bass known as: shitty), I have to say...he should be part of the official line up. Fans? Let Maria, Chris, and Blake know that he's a keeper!
We also chatted with Ramin from the band
In Fear and Faith
and he's a nice guy too. Many thanks to him for putting up with my venting and bitching...that's how you know a guy is hardcore.
I was so unsure of the whole interview process with a, "Why me?" attitude...because I'm just a video game nerd and not, typically, qualified to know ANYTHING about metal.
I mean, there are a bunch of metal bands I liked in high school, but It's a gene I'm severely lacking current knowledge in. Really,
Leandra
should have been there to school us all in her epic knowledge of all that is both heavy and metal.
And...next time, she will be! (Threat? Promise? Take that however you wilt!)
But, despite all my misgivings and general TV-shooting drama, I had a lot of fun.
Despite only spending about 12 hours total in the city, I came to several other realizations:
Chloe and I aren't ment to do anything that doesn't involve a couch.
If I'm on a sinking ship, I know I want Chloe with me.
I am entirely NOT swanky enough to be walking around The Standard.
I have to go back to LA...soon.


Toodles!


Can you tell I'm a little tired?